LEDs are the light source of choice for photocatalysis
In addition to the medium pressure mercury lamp Vapourtec have made available 15 specific LEDs ranging from 365 nm to 580 nm.
The LEDs offer a precise wavelength therefore do not require any filters. The low heat load allows the reactor to reach as low as -40°C but can also heat to 80°C.
For applications in photocatalysis LEDs are the ideal choice of light source.  LEDs are efficient and the dominant wavelength can be chosen to match very closely the absorption characteristics of the photocatalyst, maximising throughput and minimising side reactions.


The light sources are interchangeable and can be replaced in less than a minute. Therefore it is possible to use the same unit for multiple photocatalysts by just changing the LED, see below:

LEDs are also extremely efficient and have a lifetime of ~ 10,000's hours.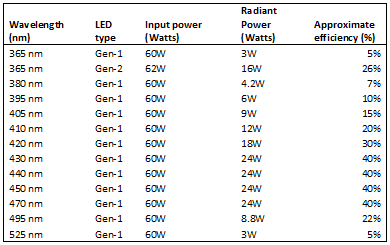 Absorption spectra of common catalysts used for photocatalysis
The published absorption spectra for some of the common catalysts used for photocatalysis are shown below:

A selection of publications using the LEDs can be found below:
Juan A. Vega et al. "Continuous Flow α-Arylation of N,N-Dialkylhydrazones under Visible-Light Photoredox Catalysis." Org. Lett., 2017, 19 (4), pp 938–941.
Fabio Lima et al. "Visible light activation of Boronic Esters enables efficient photoredox C(sp2)–C(sp3) cross-couplings in flow" Angew. Chem. Int. Ed. 2016, 55, 14085.
Emily Corcoran et al. "Aryl amination using ligand-free Ni(II) salts and photoredox catalysis". Science., 2016, 353 (6296), p279-283.