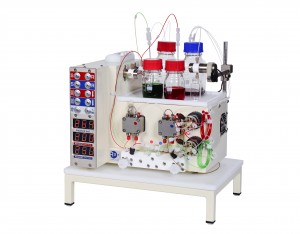 Precise High flow pumping
The Vapourtece high flow rate pump module offers reaction pressures up to 42 bar and 50ml/min per pump.
This makes a range of chemistries possible with good solvent and reagent compatibiltiy.
The Vapourtec R2HF pump module features a pump monitoring system that is built into all R Series modules. This offers the following facilities
it detects any failure to pump correctly across the whole range of flow rates
it tells the user which pump is not pumping correctly.
Some less sophisticated monitoring systems might be able to tell if the pump is not pumping at all, or may be able to detect incorrect behaviour at high flow rates (1ml /min and above). But the Vapourtec system will reliably detect all incorrect pump behaviour at the very lowest flow rates (down to less than 50 microlitres/min).
Summary of high flow ratel pump module features:
Flow rate range of 0.200 ml/min to 50 ml/min
Pumping pressure up to 42bar
2 pump channels per pumping module
Inert reagent delivey kit
Inert gas manifold kit
Full tubing kit in PFA
Plug and play with R-Series modules
Integration with acid resistant (R2C) and slurry pumping systems (R2S) and High pressure (R2P) modules.
For more information please use the links below to contact us.