Photochemical reactor – Illuminating supported photocatalysts
In recent years researchers have demonstrated the efficiency gains produced by undertaking photochemical transformations in continuous-flow systems. Continuous flow systems have been used in developing safe and efficient methods utilizing photosensitizers. Most of this recent published work has focused on the use of homogeneous photocatalysts.
In these pages Vapourtec now presents a unique packed-bed photoreactor system designed for illuminating a fixed bed of an immobilised photocatalyst. This system has the potential to provide access to photocatalyst initiated reactions without the need for further purification. This Vapourtec reactor has been used to demonstrate a wide scope of singlet oxygen, [4+2] cycloadditions, heteroatom oxidations and the reduction of nitro groups.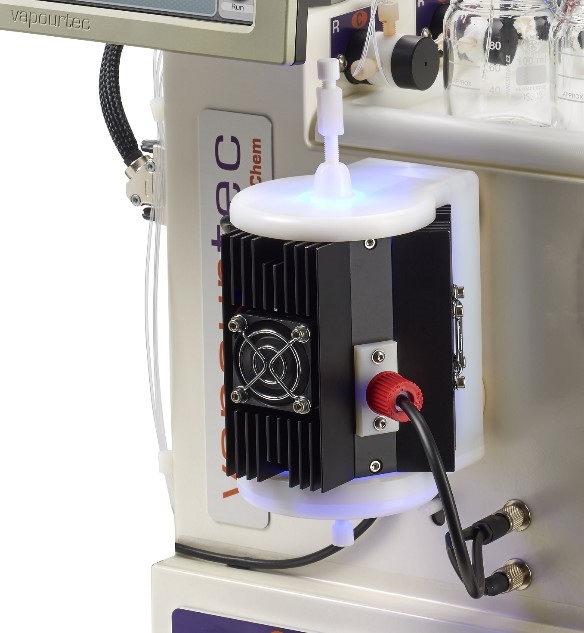 Features of this reactor
For illumination of immobilised photo catalysts
Integrates with both E-Series and R-Series systems
Catalyst is immobilised in a pyrex column
Volume of packed bed is adjustable 0.3 ml to 3 ml
High power LEDs illuminate column
LED output wavelengths fixed
LED output wavelengths from 365 nm to 700 nm
LED input power 60 watts
Led power is fixed
Temperature is monitored and controlled
Temperature range -40°C to 80 °C