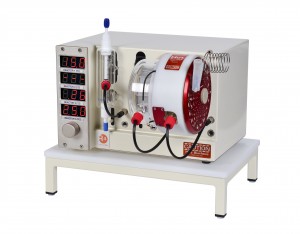 Though the R4 heater is generally used as part of an integrated R Series system, it can also be used as a stand alone reaction heater.
Excellent visibility. The novel design of the glass heat exchangers ensures the entire working volume of the reactor is visible at all times.

Precise temperature control. The true temperature of each reactor is measured and controlled.  Not only that, but the whole reactor is kept at a uniform temperature.

4 Independently heated zones. The temperature of each reactor can be set independently.

Max temperature 250°C. For channels 1 & 3, the range is ambient to 150ºC, for channels 2 & 4 it is  ambient to 250°C

Max temperature -70°C. For channels 1,3 & 4, there is the option of a cooling module.

Accepts both column and tube type reactors. Reactors for either heterogeneous flow or homogeneous flow can be "plugged-in".

Rapid response. Rates of temperature change between setpoints of up to 80°C / minute.   When cooling, a reactor can go from ambient to -70oC in 16 mins.

Active cooling, even for heated reactors. After a 250oC reaction, cooling down to a safe handling temperature takes approx 7 minutes.

Compact size. A single R-4 offers 4 independently heated reactors within a small footprint. Multiple R-4s can be stacked.