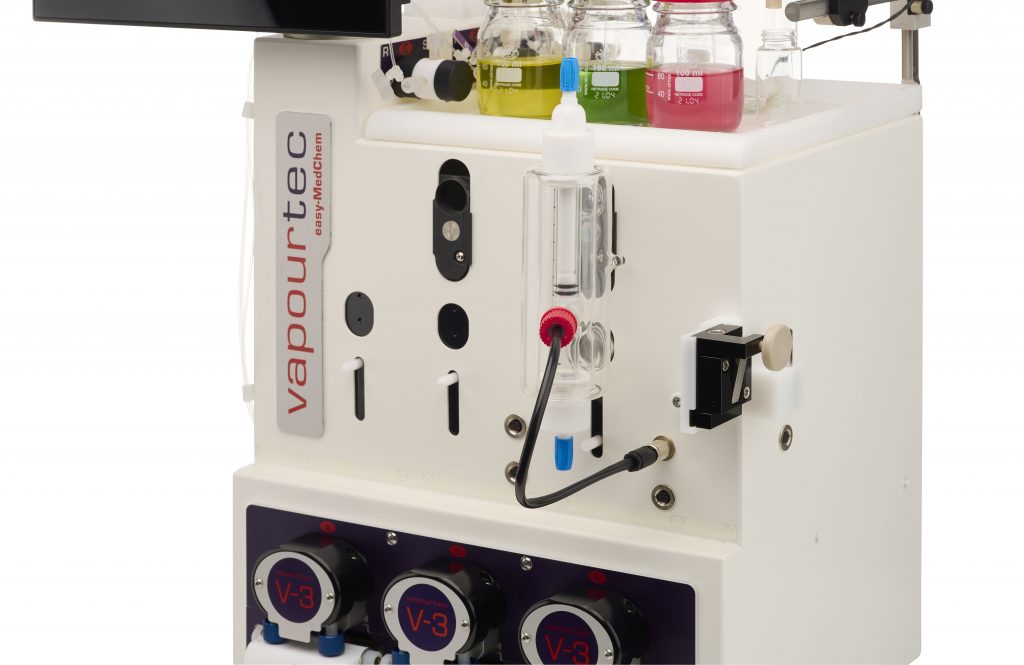 The Vapourtec fixed bed reactor contains a column within a glass manifold, in which heat transfer in or out of the fixed bed reactor is achieved by controlling the temperature of the surrounding gas flowing through the glass manifold. The temperature of the fixed bed reactor is measured at the outer wall. The measured temperature is representative of the temperature of the wall of the fixed bed reactor.
There are many advantages to this design, (compared to the conventional method of clamping the column between heated metal jaws), such as:
The contents of the column are always visible
The column heating is even, with no hot spots.
Fixed bed reactors may be used for workups, scavengers, solid-supported catalysts, solid-supported reagents, or even to dispense reagents.
Max pressure depends on the bore of the column and, for larger sizes, temperature.
Note that the thermocouple is different from that on the tube reactor manifolds, and they are not interchangeable.
Fixed bed reactor diameters of 6.6 mm, 10 mm, and 15 mm diameters are supported and fittings and adapters are available with fixed and adjustable ends.
Standard fixed bed reactor features
Ambient to 150°

C

Ideal for scavenger resins, immobilised catalysts, solid-supported reagents
Accepts standard Omnifit glass columns
Full visibility of column contents
Precise temperature control
Fixed bed reactor height is manually adjustable
Materials of construction for the fixed bed reactor are Borosilicate glass, PTFE, Kalrez seals
References:
Baxendale, Ian R., et al. "A flow reactor process for the synthesis of peptides utilizing immobilized reagents, scavengers and catch and release protocols." Chemical communications 46 (2006): 4835-4837.
Baumann, Marcus, et al. "Azide monoliths as convenient flow reactors for efficient Curtius rearrangement reactions." Organic & biomolecular chemistry 6.9 (2008): 1587-1593.