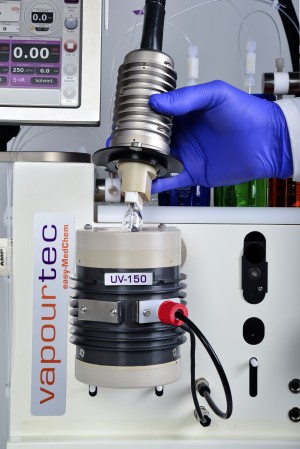 The first light source made available with the UV-150 photochemical reactor was the medium pressure mercury lamp. This provides constant and precise UV output, with user selectable UV power between 75 W to 150 W – allowing dimmable operation without compromising lamp life or spectral output.
Manufactured specifically for Vapourtec, power is supplied by a state-of-the-art electronic ballast – maximising lamp life. Lamp end-life and fault conditions are automatically detected, with automatic system shut down for safety.
Due to the high intensity of the medium pressure mercury lamp, the light source is maintained under cooled air conditions. Cooling is provided by the Vapourtec cooled gas generator and existing cooled gas generators (purchased with the cooled tube reactor) can be used.
Cooling provides precise temperature control between -5°C to 80°C with ±1°C resolution. Temperature is measured directly at the reactor wall giving the most accurate temperature representation.