Powerful, Intuitive, Feature-rich.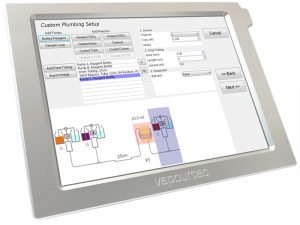 With Vapourtec's Flow Commander™ software each experiment can be created with a simple custom schematic interface. Regent/pump channels can be dropped into place and reactors of user defined volume and bore can be added into the experimental setup. Support for external reactors and reactor heaters/coolers is available and up to 4 reagent streams can be programmed.
Users can select pressure limits in various sections of the design and select any auxillary equipment such as UV detectors, collectors, IR sensors and autosamplers
Once the Experimental setup is created, a number of reaction conditions may be added which allow a range of stoichiometric or volumetric ratios, residence times, temperatures and scale to be explored.
With a few simple clicks a whole range of automated reactions can be created for optimisation or library synthesis.
For more information on the features of Flow Commander™ and to request a demonstration, please contact our sales team using the links below.