Powerful application programming interface:
Vapourtec Flow Commander™ has the optional API (application programming interface) allowing the popular R-Series system to be controlled via a network connection.
This adds a whole new set of capabilities, which are described below.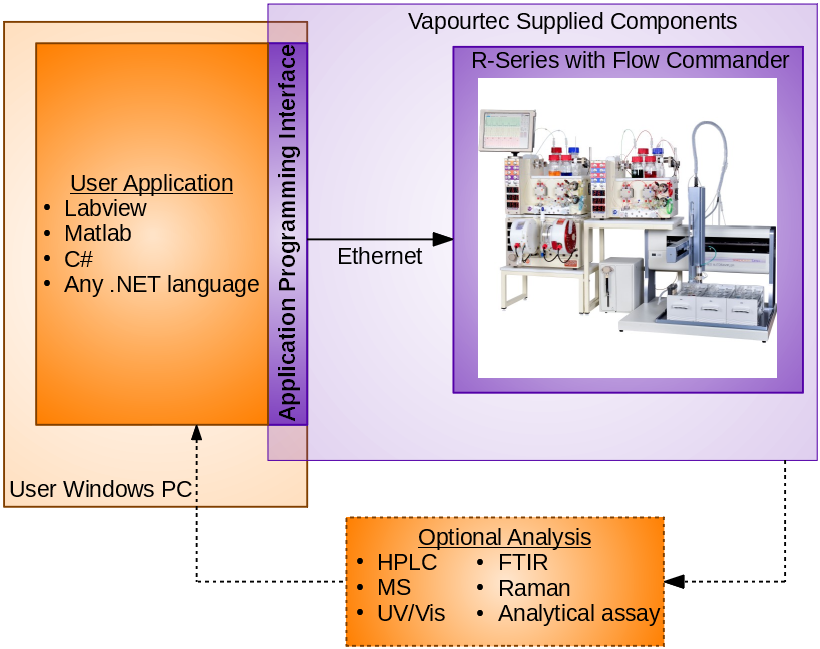 Access to Simple High level Commands
The API permits high level functions to be invoked, while leaving the resulting low level activities such as pump control, valve timing and dispersion modelling to be controlled entirely by the well proven Flow Commander™ software.
For example, a supervisory user program can:
Add 1 or more reactions to the queue, specifying all parameters for each reaction.
Start (or stop) the sequence of reactions.
Monitor status in real-time as reactions are proceeding. The Vapourtec system being controlled may include a fraction collector or an autosampler which can load different reagents into sample loops for each individual reaction.
It can execute a "handshake" when an external piece of non-Vapourtec equipment loads the sample loops under control of the user's own supervisory software.
Access to low level commands
The interface also permits low level access to pump flow rates, valves, temperatures.
Low level commands can only be accessed when the system is not already running an automated reaction. This permits a range of novel behaviours to be automated, which were formerly not available through Flow Commander™.
Why ?
There are a number of scenarios which this new API makes possible.
1. The Vapourtec system can be placed at the heart of an automated system, where
the overall controller tells the Vapourtec system what to do next and starts the
system. This has applications both in high throughput synthesis, automated
optimisation and also for certain analytical processes.
2. New modes of operation can be accessed by invoking low level commands. For
example, stop-flow reactions and temperature ramping can be accessed through the
API, allowing user code or LabView scripts to control novel system behaviour for
research purposes.
For more information on the API package for Flow Commander™ please contact the Vapourtec sales team using the link below.