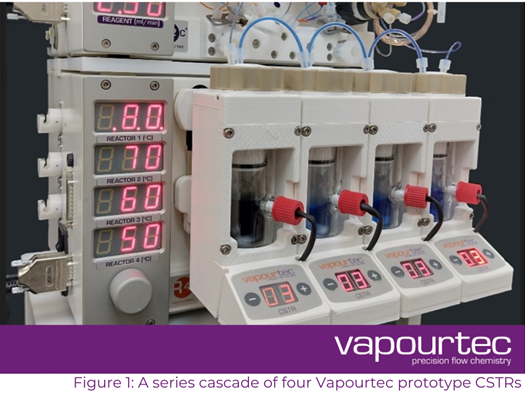 Vapourtec is set to launch a unique continuous stirred tank reactor (CSTR) for integration with Vapourtec's flow chemistry systems.
The addition of the CSTR to Vapourtec's wide range of reactor options is intended to further expand the range of chemical reactions accessible using Vapourtec's market leading product range.
The key advantages of CSTRs over plug flow or tubular reactors are;  the ability to handle solids, separation of liquids and gases, access long reaction times and provide active mixing.
These characteristics open up the exploration of reactions
including;
Crystallisations
Reversible reactions
Process optimisation for industrial processes
CSTR and continuous flow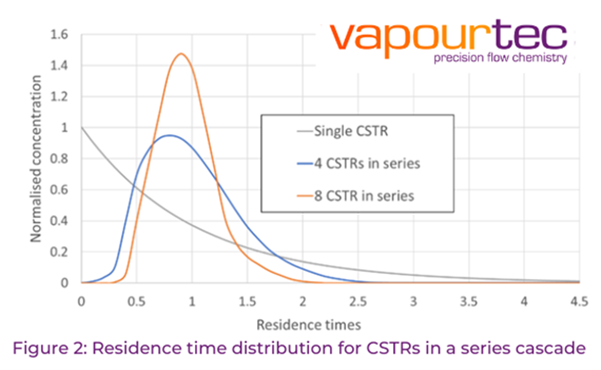 Tubular reactors also named plug flow reactors give excellent performance as continuous flow reactors for two important reasons, extremely low back mixing and consistency of reaction time (residence time).   When used as a continuous flow reactor a single CSTR is rather unsuitable as the residence time distribution (RTD) exhibits significant variability and the back mixing is not controlled, reaction products are free to mix with high concentrations for starting materials.  Used singularly CSTRs are more suited for reagent feed and collection vessels than flow reactors.
When used as a series cascade, multiple CSTRs can start to approach the performance of tubular reactors.  Reaction products can be separated from starting materials and residence time distributions can be tightly controlled.
Vapourtec has designed the new CSTR reactor to allow up to 8 reactors to be connected as a series cascade.   An E-Series can be fitted with up to 2 CSTRs, an R-Series with a single R4 module can be fitted with up to 4 CSTRs, an R-Series with two R4 modules can be fitted with up to 8 CSTRs.  All CSTRs are individually temperature controlled, to provide maximum versatility the stirring speed can also be set independently for each CSTR.
The outline specification for Vapourtec's unique CSTR:
Volume:                     5 ml to 40 ml
Temperature:           -10 C to 150 C
Pressure:                   Atmospheric up to 3 bar
Stirrer speed:            100 rpm to 1200 rpm
Wetted materials:   Glass (fluoropolymer coated), PTFE, PFA, Kalrez
Photochemistry:      LED light sources 365 nm to 700 nm
Production version and CSTR availability
Vapourtec is currently collaborating with academics who are using the prototype versions the CSTR (See figure 1).  Using feedback obtained from collaborations a production version is in development (see figure 3).  The production version will be available Q3, 2023.  For more information, or if you are interested in collaborating with our design team please contact Vapourtec.