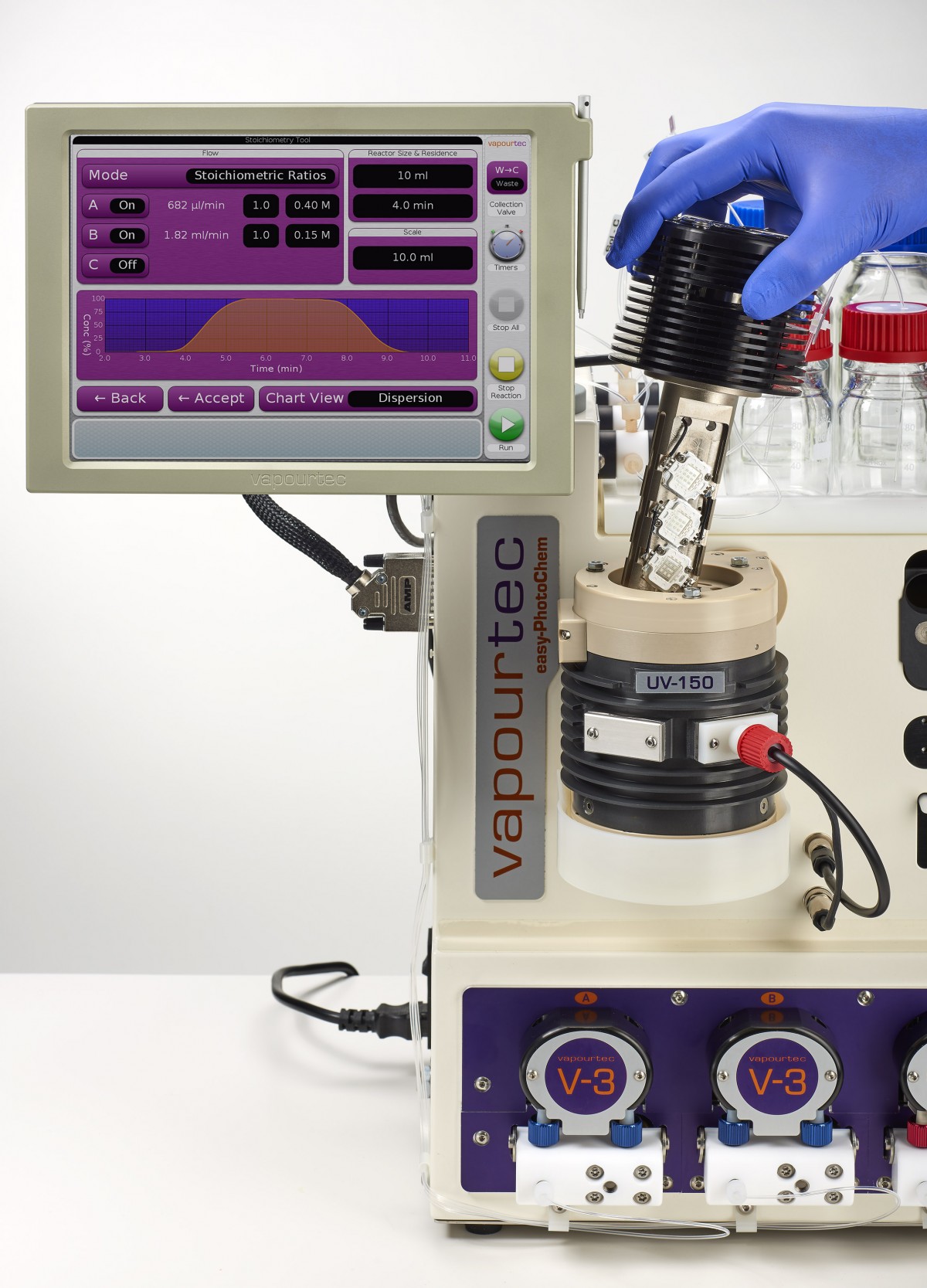 Flow chemistry engineering firm Vapourtec has agreed to become the main sponsor for an upcoming webinar on Photo-Redox Catalysis organized by chemistry conference and training specialists Scientific Update.
The webinar takes place on the 27th April 2018 (3pm to 4pm GMT) and is being delivered by Dr Will Watson from Scientific Update. He will be providing a brief tutorial on Photo-Redox Catalysis and an introduction to the types of scientific equipment available on a lab scale.
Photoredox uses light to access single-electron transfers that are otherwise forbidden. As a reaction methodology, photoredox enables the chemist to greatly expand their synthetic range. Key to any photochemical process is the availability of light in the reagent solution, as determined by the Beer-Lambert law. In conventional, batch reactors, poor light penetration leads to poor reaction rates and very long reaction times. As a platform for carrying out photochemical reactions, the small volumes of flow reactors are ideally suited, with thin reaction walls and fluid channels allow for fantastic light penetration and reaction rates.
The Vapourtec UV-150 is engineered specifically for photochemical reactions in continuous flow, and has been used with great success by academic and industrial researchers worldwide:
SP3 rich library synthesis via Photoredox
Improving the throughput of batch photochemical reactions using flow: Dual photoredox and nickel catalysis in flow for C(sp2) C(sp3) cross-coupling
Continuous Flow α-Arylation of N,N-Dialkylhydrazones under Visible-Light Photoredox Catalysis
Vapourtec founder and MD Duncan Guthrie commented: "We are delighted to be supporting this webinar which is targeted at organic chemists working within industry who want to discover more about Photo-Redox Catalysis." added Duncan.
For more information concerning how to book your place on this webinar please visit