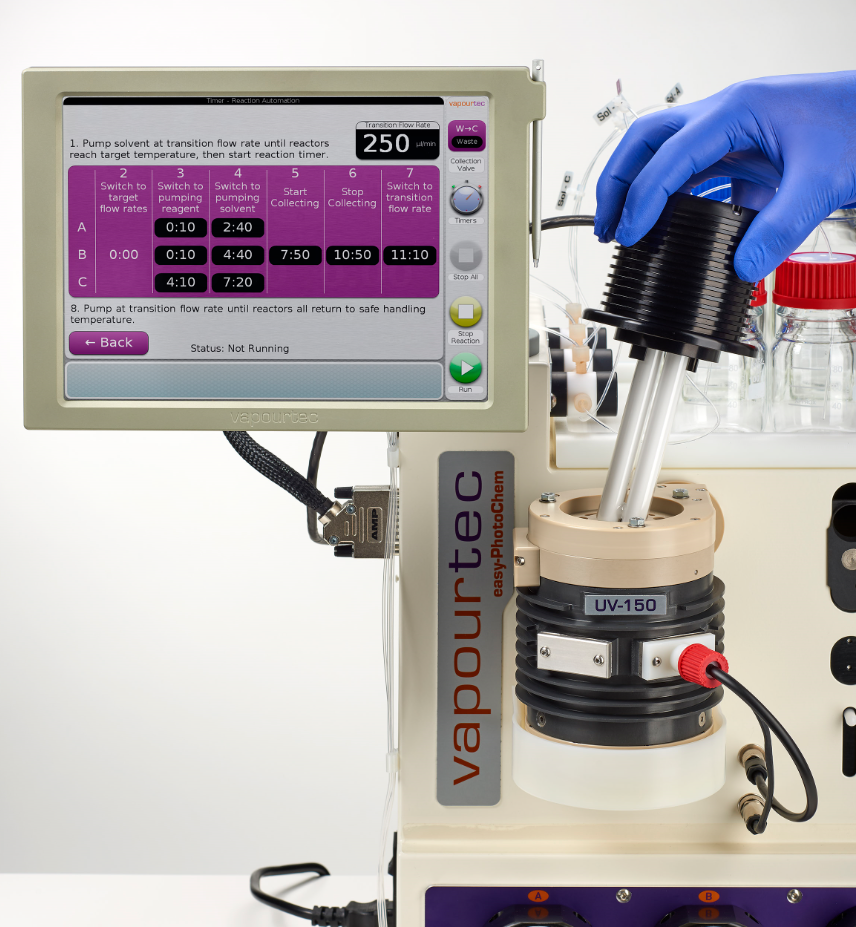 Here we present our latest application note: Synthesis of a pharmaceutical intermediate by cross-coupling with non-stabilised diazo compounds
Cross-coupling reactions
Aryl-alkyl cross-couplings represent one of the most important strategies available in synthesis. The use of continuous flow for aryl-alkyl cross-coupling has previously been mostly restricted to metal-catalysed methods; the Suzuki-Miyaura coupling, for example. This application note is based on a method published by Prof. Steven Ley and his group at the University of Cambridge, which uses a UV-150 continuous flow photochemical reactor, equipped with a 9 Watt,  310 nm low pressure mercury lamp to safely access highly reactive diazo compounds. These diazo compounds, generated photochemically, are able to cross-couple directly with aryl-boronic acids without the need for any metal catalysis.
Photochemical diazo compounds
The work by Prof. Ley and his group demonstrates how bench-stable oxadiazolines can be converted photochemically to highly-reactive, non-stabilised diazo compounds which, due to their inherent instability, are difficult to access using conventional techniques. By photochemically generating the diazo compounds in situ, they can be consumed by the cross-coupling process immediately, avoiding the issues of instability usually encountered with batch techniques.
Increasing photochemical throughput
Following the development of a new, 28 Watt,  310 nm low-pressure mercury lamp, the team at New Path Molecular Research describes in this application note how one synthesis from the Ley group, the photochemical production of a pharmaceutical intermediate, has been further developed to give higher product throughput using the higher power lamp.
This application note describes:
The use of a 28 Watt low-pressure mercury lamp at 310 nm
The effective, 3-fold increase in product throughput of a pharmaceutical intermediate
To download the application note click here
For more information about the Ley Group research click here
For more information on the UV-150 photochemical reactor click here
For more information on the E-Series system click here