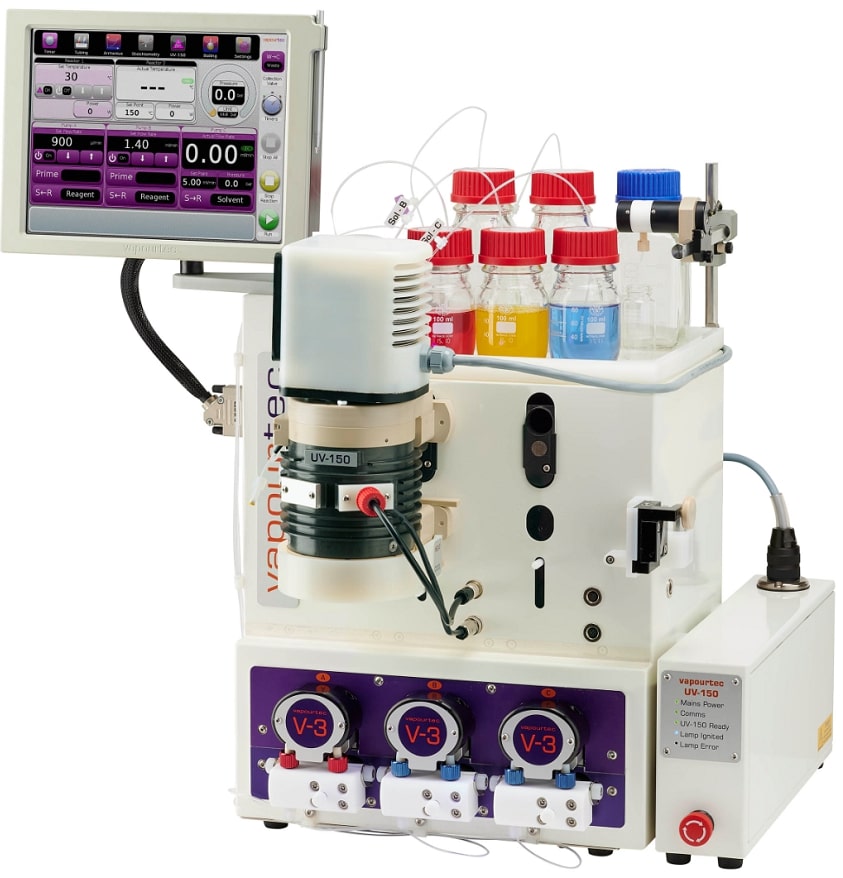 Vapourtec's pioneering UV-150 photochemical reactor has been enhanced with a number of significant improvements.
Launched in 2014, the UV-150 was the first commercially available continuous process photochemistry reactor available for the research and development market and has, since then, been cited in over 60 peer review chemistry publications and has seen broad applications within fine chemical research with over 160 installations.
Improvements within the 2020 version of the UV-150 include an ability to use reactors  with internal diameters of up to 2.5mm, better solid handling thanks to a new gravity assisted flow path, an option for using Vapourtec's high power LED module providing 150 Watts of power and an easy and elegant selection between cooled and heated operation.
Vapourtec founder and MD Duncan Guthrie explained: "In terms of its contribution to peer review published research the UV-150 leads the way by a distance over other photochemistry reactors and has played its part in the work of Professors Dave MacMillan, Peter Seeberger, Steven Ley, Cory Stephenson, Timothy Noel and many others.
"The UV-150 was conceived as a precise and flexible reactor aimed at laboratory use with three different light sources, temperature control, wavelength filtering and operation up to 10 bar pressure. The 2020 model takes this to the next level.
"The additional functionality and flexibility offered by these improvements only add to the potential routes for flow chemistry and photochemistry discovery." added Duncan.
To see our UV-150 photochemisry application notes click here
To download a full list of photochemical publications click here