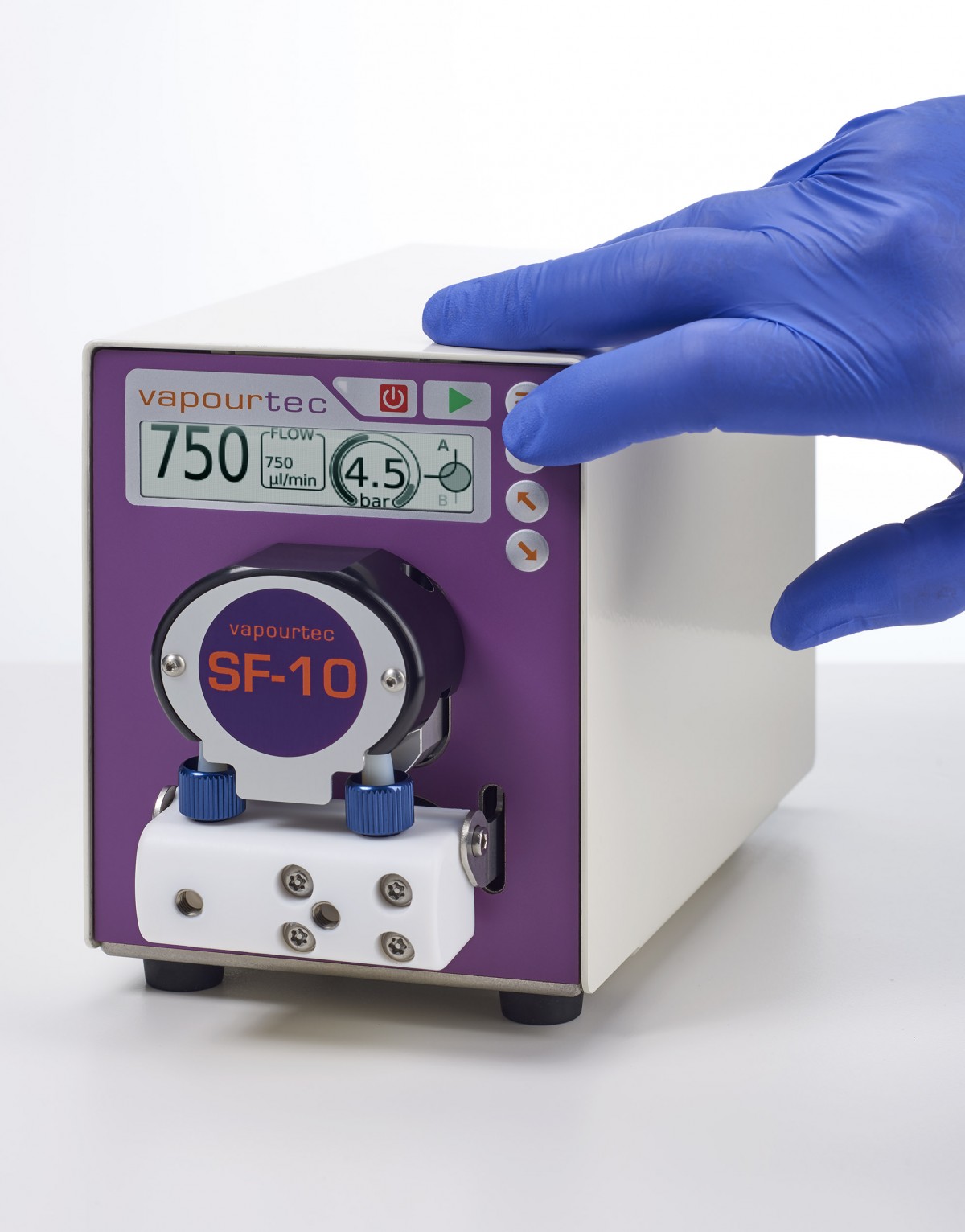 Flow chemistry specialists Vapourtec (Cambridge, UK) have launched the SF-10 laboratory reagent pump offering both precision and versatility and opening up a broad range of important applications within biology and chemistry labs worldwide.
Intended for general laboratory use, the SF-10 is a highly chemically resistant peristaltic laboratory pump capable of delivering smooth flow at up to 10 bar pressure. Operating modes covered include; constant flow rate, ramping flow rate, volume dosing, pressure controller and gas delivery.
Flexible laboratory pump
The versatility of the SF-10 laboratory pump has opened up a host of uses including precise reagent delivery into batch reactors, control of gas delivery for small scale batch reactions or degassing operations, chemical sampling from batch reactors, controlled delivery of reagents for thin film evaporation or spray drying processes and precise back pressure control for liquid, liquid-gas or liquid-light slurry systems.
Vapourtec founder and MD Duncan Guthrie commented: "This is an innovative, laboratory pump developed with a wide range of chemistry applications in mind".
"The self priming SF-10 laboratory pump delivers a high level of chemical compatibility in flow rates ranging from 0.02 mL/min to 10 mL/min.  The innovative design has created an extremely versatile product enabling the pumping of media ranging from light slurries to gases and offering smooth output flow in combination with pressures up to 10 bar".
"Everything points to the SF-10 laboratory pump becoming a very popular tool for chemists across the world given its flexibility and extensive capabilities. We are very excited about its potential, both within and outside our normal flow chemistry focus," added Duncan.
To download the SF-10 laboratory pump datasheet click here