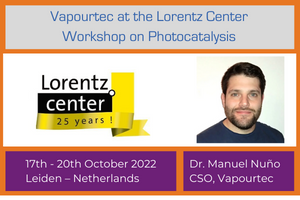 Vapourtec is proud to be participating and sponsoring the forthcoming Lorentz Center Workshop on Photocatalysis that starts on the 17th of October 2022. A great occasion to engage once again with the community and highlight key developments within the field.
Our Chief Scientific Officer, Dr. Manuel Nuño will be attending and presenting at the workshop and will also be displaying our ground-breaking, highly cited UV-150 photochemical reactor. Manuels presentation is entitled 'Photochemistry in flow with Vapourtec', in which he will explain Vapourtecs vision of flow photochemistry and how it can be achieved.
The four-day conference aims to demonstrate the versatility and power of photocatalysis for a broad space of organic transformations, stimulate and inspire its use as a sustainable approach for the synthesis of valuable compounds, identify and give solutions for the challenges in the field, and fill the gap between the use of photocatalysis in academic laboratories and industrial settings through a dynamic exchange of ideas between the two areas.
Manuel is looking forward to taking your questions!