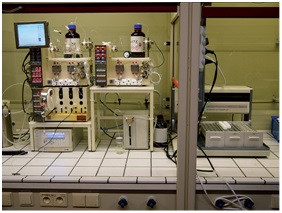 Using the Vapourtec R-Series flow chemistry system researchers from the UCB Biopharma have shown the development and preparation of an improved synthesis of 2-substituted 1,2,3-triazoles over conventional batch processes. Using the advantages of flow chemistry the group were able to scale up the process that involved the use of hazardous diazonium intermediates, dissolved ammonia and a novel catalytic copper oxidative cyclisation. Further to this, using of the liquid handling capabilities of the Vapourtec system they were able to quickly access a library of compounds for further derivitisation.
1,2,3-Triazoles are an important heterocyclic moiety in medicinal chemistry but only a few methodologies are currently available for the preparation of 2-substituted 1,2,3-triazoleisomers. The group looked to expand this through an automated multistep flow process of the diazotisation of aniline and reaction with malononitrile, followed by the nucleophillic addition of an amine and a copper mediated cyclisation.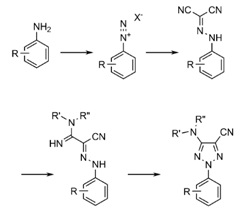 The group from UCB have shown increased process safety with complete selectivity and excellent yields of a single isomer in the formation of biologically relevant heterocyclic compounds.
Find out more
Published papers
Read the full findings of this research on the Chemistry A European Journal website.