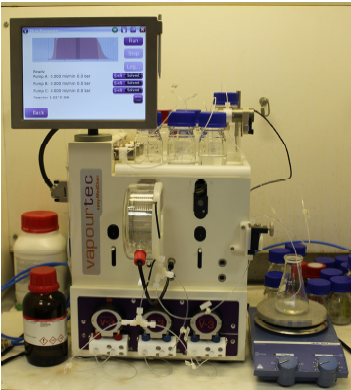 This new application note demonstrates the oxidation of thioanisole using hydrogen peroxide in continuous flow. It highlights the use of 50 wt% hydrogen peroxide which can be pumped neat with Vapourtec systems. Both cooled and heated conditions are explored for this exothermic reaction.  The reaction temperature was controlled using a Vapourtec cooling module for the sub-ambient conditions.  To explore the highest possible throughput, mildly heated conditions were also explored.
The key features of this application note include:
·         Safe handling and controlled reaction with 50 wt.% aqueous hydrogen peroxide.
·         Highly selective oxidation of sulphoxide formation from thio ether.
·         Optimal output of 225 g/h with a single reactor (37.8 kg/week).
·         Demonstration of the safety features incorporated into Vapourtec systems.
Hydrogen peroxide is a strong oxidizer which finds many uses in the chemical industry. However, due to this reactivity, care is needed when utilizing it in reactions to limit the impact of an exothermic reaction. As a result, in batch, hydrogen peroxide is added slowly/dropwise to the reaction mixture to avoid a rapid reaction, excessive heating or reaction run-away. Flow chemistry is a much safer approach to undertaking these exothermic reactions, the key reasons being:
·         Only a small inventory of reactive materials is present in the reactor at any time.
·         The surface area to volume ratio of flow reactors is much larger than their batch counterparts and therefore are much more capable of removing heat from a reaction.
·         The reagents are continually pumped ensuring the reaction progresses at a controlled rate.
·         Should the temperature of the flow reactor start to rise this can be readily observed and corrective actions taken to slow or even stop the reaction.
To read more on this application click here
To read more about Vapourtec chemically resistant systems click here