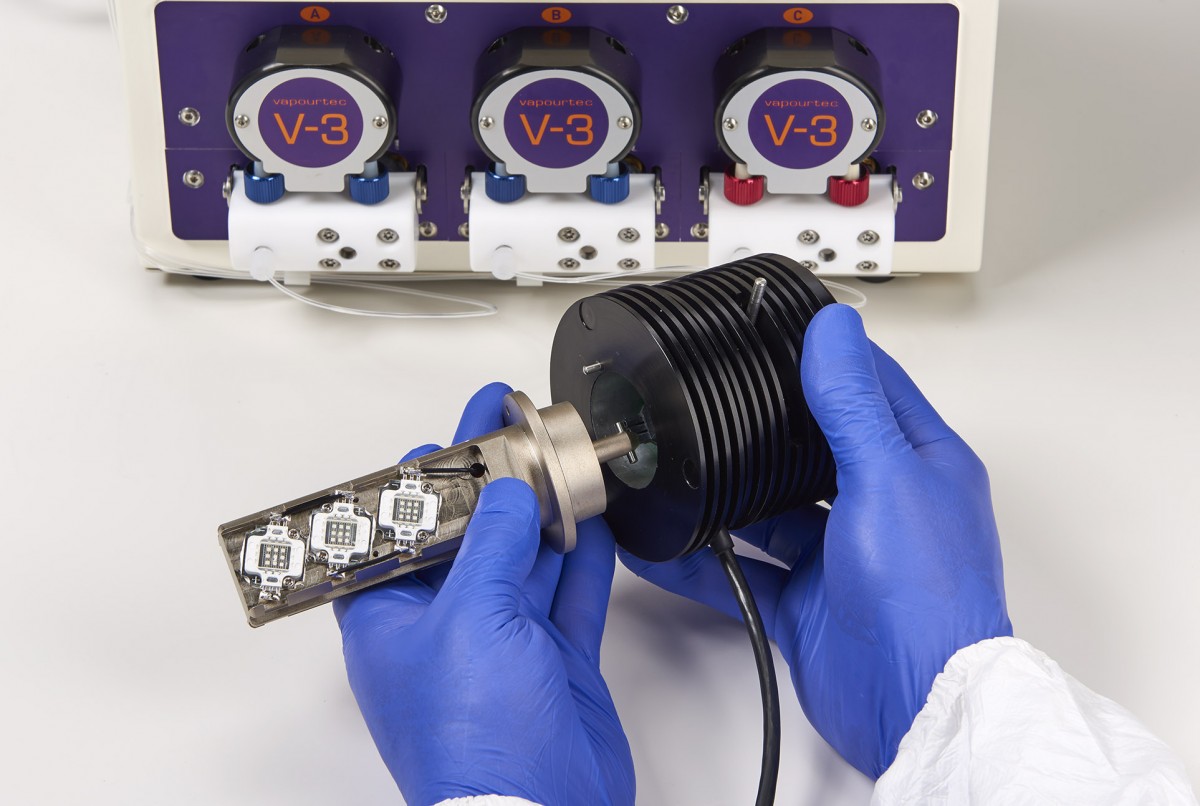 Published in Nature Communications, Professor Stephenson's Group at Michigan University, have experienced first-hand the advantages of continuous flow for Photochemical reaction scale up.
The presence of fluorine in drug molecules has been found to significantly improve the molecule's metabolic stability as well as other pharmokinetic properties. As a result, chemical methodologies for the incorporation of fluorine containing groups, like trifluoromethyl, have been of significant interest to synthetic chemists. While attempting an innovative photochemical approach to trifluoromethylation using trifluoroacetic anhydride as a readily available and lower cost source of the trifluoromethyl group, Stephenson had success using pyridine-N-oxide as a sacrificial redox auxiliary, with photoredox catalysis to generate CF3 in situ.
A scale-up of the trifluoromethylation of N-Boc-pyrrole was attempted, and a yield of 57% after 15 hours was obtained in batch from 18 g of starting material. This was scaled further to 100 g of starting material, yielding 35% in 62 hours – the team experienced a loss of light penetration, and although the light source was not optimised, Stephenson remarks in the text "another attractive option for scale up involves the use of continuous processing. The benefits from conducting photochemical reactions in flow have been previously demonstrated, and predominantly originate from more efficient light irradiation of the reaction solution."
Using a Vapourtec E-series, equipped with the UV-150 photochemical reactor, the group obtained a yield of 71% from 20 g of starting material, at a rate of 3.33 gh-1. This clearly demonstrates the significant gains in productivity that can be achieved by using a commercial reactor like the UV-150. Scale up to 100 g or more is also much simpler: just leave it running for longer.
Dr Ryan Skilton, Research Scientist at Vapourtec commented: "This excellent paper is a clear demonstration of how the UV-150 uses the advantages of flow chemistry to minimise the common barriers to photochemical scale-up"
To read more about the UV-150 click here
To go directly to the Nature Communications publication click here