Using the Vapourtec R-Series flow chemistry system researchers from the Max-Planck Institute of Chemistry and Biology have developed an approach to deliver a range of active pharmaceutical ingredients (API's) in a continuous process. The concept uses a non-iterative chemical assembly system that uses a range of flow chemistry modules that can be linked and interchanged to gain access to an increased chemical space.
The concept uses an assembly of five modular systems allowing the control of three important variables, choice of starting material, reagent and the order of reaction sequence. This has enabled the group to synthesise three different structural classes (γ-amino acids, γ-lactams and β-amino acids) towards five API's including the blockbuster drugs Lyrica and Gabapentin.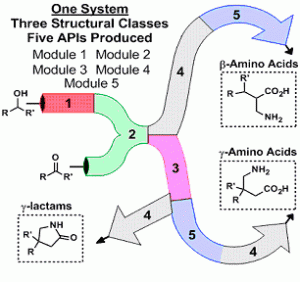 The five interchangeable modules use commonly utilized transformations, module 1 (oxidation), module 2 (olefination), module 3 (Michael addition), module 4 (hydrogenation) and module 5 (saponification). Each module was optimised in relation to the entire system with the considerations of solvent compatibility, flow rates and by-products taken into account. The R-Series system proved robust and flexible enough to adapt to the range of conditions required.
The conceptual advantage that this approach offers is great. If applied to the chemical and pharmaceutical industries the access and production of a wider range of customisable molecules can be achieved. This proof-of-principle approach demonstrates the further advantages continuous flow chemistry can deliver.
Find out more
Published papers
Read the research paper on the Angewandte Chemie International Edition website.