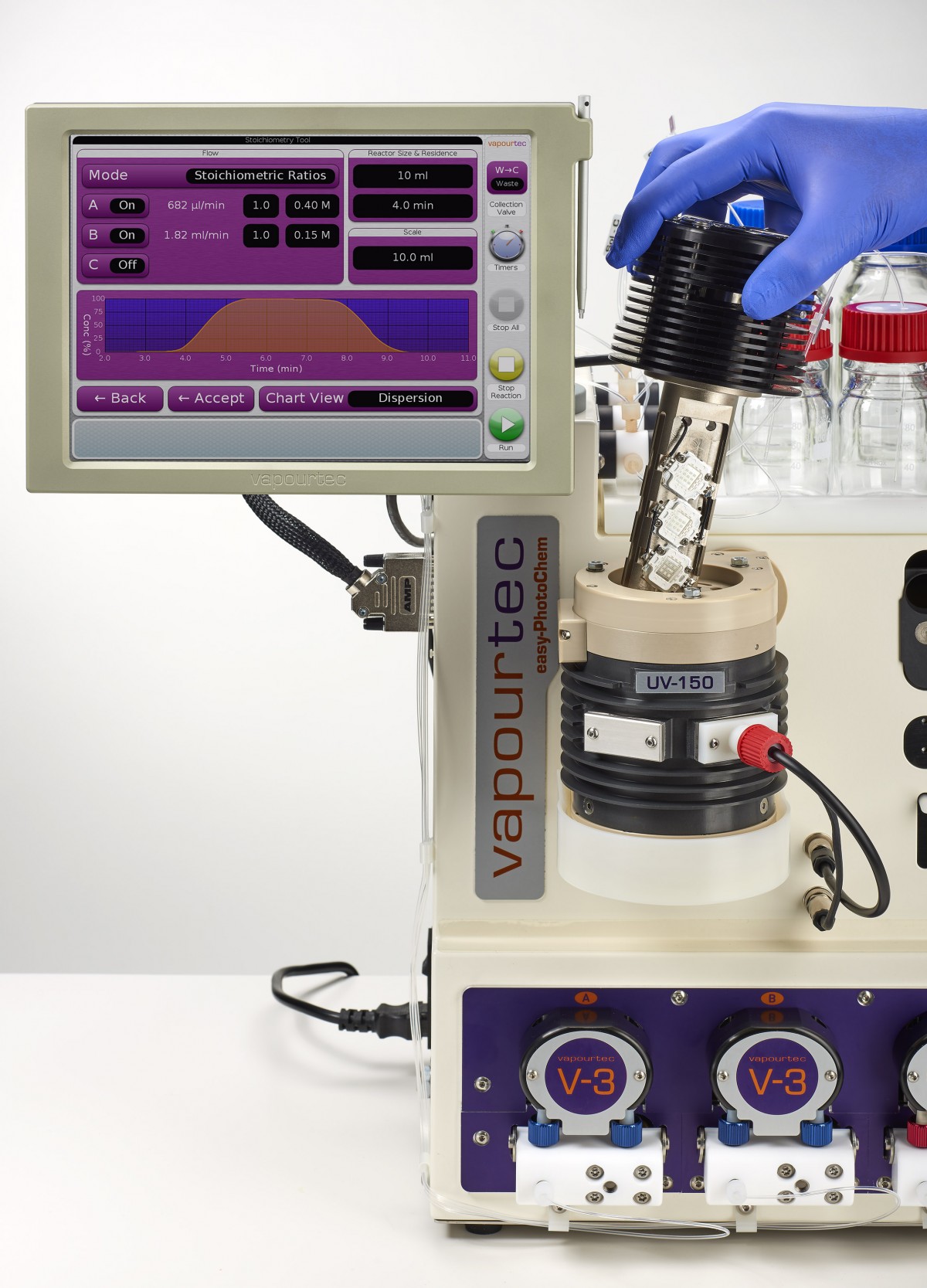 The latest flow chemistry innovations will be on show at Vapourtec's booth (number 1717) at the forthcoming 253rd American Chemical Society (ACS) National Meeting & Expo (April 2-6, San Francisco).
Vapourtec will be demonstrating the easy-MedChem flow chemistry system as well as their complimentary UV-150 photochemical reactor and the recently launched SF-10 lab reagent pump. The easy-MedChem is an advanced system aimed at chemists looking to explore chemical reactions and then do initial scale-up. The system can be used for a wide range of chemical reactions with a temperature range from -70°C to 250°C.
The plug and play UV-150 reactor allows for safe access to photochemistry processes that hasn't existed before due to the unique design of the lamp, filters and reactors that deliver enhanced power, analytics and temperature control. Vapourtec now has 3 light sources available; medium pressure mercury, low pressure mercury and high powered LEDs.
Intended for general laboratory use, the SF-10 is a highly chemically resistant peristaltic pump capable of delivering smooth flow at up to 10 bar pressure. Operating modes covered include; constant flow rate, ramping flow rate, volume dosing, pressure controller and gas delivery.
Vapourtec Sales Manager Stacey Crane commented: "The US is proving to be a global leader in the adoption of flow chemistry techniques and Vapourtec is playing its part in facilitating and enhancing this growth in research and experimentation.
"As the market leader in flow chemistry, with almost 250 citations in peer review publications, we will be showcasing three innovations in San Francisco that increase the scope and potential of continuous flow chemistry," added Stacey.
To arrange a meeting with a Vapourtec representative at the ACS Expo please Email Stacey Crane.