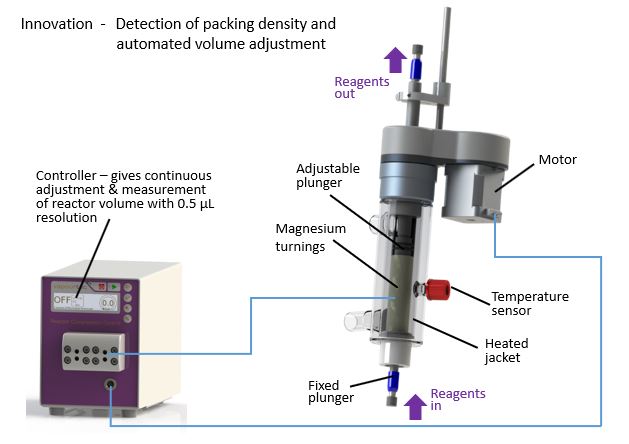 Vapourtec present application note 67 which demonstrates the production of Grignard reagents with ease in flow.
Up until now pre-activation of the magnesium bed was required to begin a Grignard reaction in flow. Several publications have covered the best way to activate magnesium for Grignard reagents [2]–[4][5]. However, issues arise as magnesium starts depleting and voids within the particles have unpredictable effects, such as dilution and altering of residence time.
This application note demonstrates the use of Vapourtec's Variable Bed Flow Reactor (VBFR) to consistently generate Grignard reagents without the need of any pre-activation step. Accurately controlling the temperature and the packing density of the magnesium bed is shown to be key to generating Grignard reagents with ease in flow.
Variable Bed Flow Reactor – the technology going forward
The new reactor produced by Vapourtec provides a new direction of heterogeneous reactions.
Fixed bed reactors, due to their simplicity, are a useful tool when working with heterogeneous catalysts in continuous flow. However, this technology cannot easily be applied to other heterogeneous reactions. This is because changes in volume, due to solid formation or consumption during the reaction, are not accommodated for by a change in reactor volume. Consequently, this has a detrimental impact on the column's packing density.
Vapourtec have developed a pioneering reactor that overcomes the limitations of fixed bed reactors. By monitoring the packing pressure within the reactor bed, the Variable Bed Flow Reactor (VBFR) "simply" adjusts its volume to keep a constant packed bed density. This innovative feature opens doors for a wide variety applications:
Solid phase synthesis

– Peptide synthesis [1], Oligonucleotide synthesis, Oligosaccharide synthesis [6].

Heterogeneous stoichiometric reactions

– Formation of organometallic reagents.

Catch and release purification
Please contact Vapourtec if you want to know more about this new innovative technology.
References
[1]         E. T. Sletten, M. Nuño, D. Guthrie, and P. H. Seeberger, "Real-time monitoring of solid-phase peptide synthesis using a variable bed flow reactor," Chem. Commun., 2019.
[2]         H. Gilman and R. H. Kirby, "A simplified preparation of activated magnesium for grignard reagents," Recl. des Trav. Chim. des Pays-Bas, vol. 54, no. 7, pp. 577–583, Jan. 1935.
[3]         U. Tilstam and H. Weinmann, "Activation of Mg Metal for Safe Formation of Grignard Reagents on Plant Scale," Org. Process Res. Dev., vol. 6, no. 6, pp. 906–910, Nov. 2002.
[4]         S. V Ley and C. M. R. Low, "Preparation of Activated Magnesium BT  – Ultrasound in Synthesis," S. V Ley and C. M. R. Low, Eds. Berlin, Heidelberg: Springer Berlin Heidelberg, 1989, pp. 33–38.
[5]         L. Huck, A. de la Hoz, A. Díaz-Ortiz, and J. Alcázar, "Grignard Reagents on a Tab: Direct Magnesium Insertion under Flow Conditions," Org. Lett., vol. 19, no. 14, pp. 3747–3750, Jul. 2017.
[6]         Eric T. Sletten, José Danglad-Flores, Manuel Nuño, Duncan Guthrie, and Peter H. Seeberger, "Automated Glycan Assembly in a Variable-Bed Flow Reactor Provides Insights into Oligosaccharide–Resin Interactions,"  Org.Lett. DOI: 10.1021/acs.orglett.0c01264
To read application note 67 click here
To request more information on Vapourtec's VBFR click here