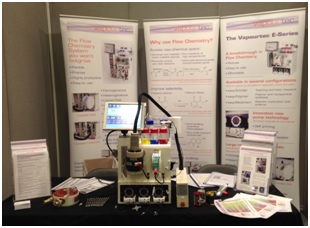 Vapourtec (Cambridge, UK) has returned from the recent Flow Chemistry Europe event in Berlin encouraged by high levels of interest shown in its UV-150 photochemical reactor as well as the R-Series and E-Series flow chemistry systems.
Vapourtec Sales Specialist Stacey Crane commented: "Our E-Series and R-Series systems were frequently cited in many of the presentations that showcased some of the latest methods and breakthroughs in flow chemistry research. This provided invaluable exposure for the potential of our systems.
"The UV-150, launched in 2014, continues to attract a lot of interest and we fielded a number of enquiries for the reactor that is already leading to more precise, consistent, safe and scalable photochemical synthesis.
"It offers potential routes for novel compounds and building blocks as well as reducing the environmental impact of chemical processing.
"The two days in Berlin also represented a great opportunity to talk face to face with existing customers and get feedback on the latest developments within continuous process technologies," added Stacey.
Vapourtec will be exhibiting at the 249th ACS National Meeting and Exposition in Denver (22-24 March), the SCI Reagentless Synthesis conference (London, 1 April) and the Dial-a-Molecule event in Stevanage (16 April). To book a meeting with a Vapourtec representative please contact Stacey Crane, [email protected].
For a full list of Vapourtec events visit our events page
Vapourtec design and manufacture flow chemistry systems for a wide variety of sectors including education, pharmaceutical and industry with their technologies used by all of the major pharmaceutical brands.
Established in 2003, Vapourtec has developed a flourishing international market for its technology with sales across much of the world. Cited in over 170 peer review publications globally, Vapourtec's systems lead the way in terms of flow chemistry and photochemistry research breakthroughs.
Find out more