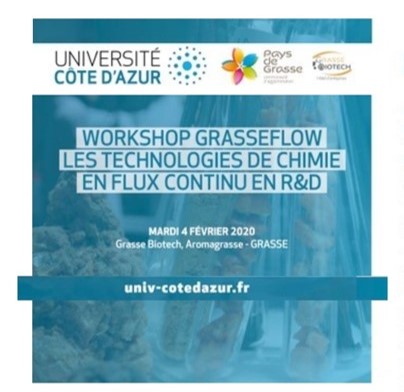 Vapourtec's Dr Manuel Nuno will be presenting a talk entitled 'Use of advanced continuous flow reactors in organic synthesis' at the forthcoming 'Workshop Grasseflow' to be held at the Grasse Biotech Business Hotel near Nice in France (4th February 2020).
The specialist event, which attracts industrial chemists ranging from technicians up to R&D managers, will also see Vapourtec showcasing a range of pioneering reactors at their booth including the Ion electrochemical reactor, the UV-150 photochemical reactor with high power LED as well as cooled, standard tube and standard column reactors. The E-Series flow chemistry system and SF-10 lab reagent pump will also be on display.
Dr Manuel Nuno commented: "The event 'Les technologies de chimie en flux continu en R&D' will focus on fragrance molecules, flavours and cosmetics with a select number of experts set to attend.
"My talk at 11.30am will centre around the application of our new reactors in organic synthesis highlighting the potential for flow chemistry to create novel fragrance and flavour molecules," he added.
The event is sponsored by the Université Côte d'Azur, Pays de Grasse and the Grasse Biotech organisation.
To find out more about the Ion Electrochemical Reactor click here
For more information on the E-Series flow chemistry system click here