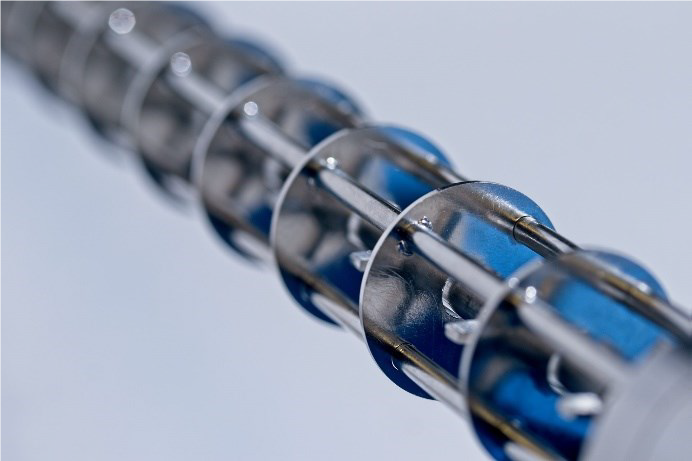 Produced by Stoli Chem and Vapourtec
Vapourtec has teamed up with UK-based reactor manufacturer Stoli Chem to demonstrate a new range of continuous stirred tank reactors with Vapourtec. The capabilities of this reactor setup are demonstrated by the results obtained in a scaled-up biphasic Steven's oxidation reaction yielding 1.4 kg/day.
In the Steven's oxidation, sodium hypochlorite is used to oxidise aldehydes to esters in the presence of an alcohol. Aqueous solutions of sodium hypochlorite are immiscible with the substrate's organic solution, requiring a phase transfer catalyst to ensure oxidant and substrate can react together. In batch, the reaction rate will be limited by the interface between phases, often requiring aggressive mixing and phase transfer catalysts.
Continuously stirred tank reactors (CSTR) can be used to scale up processes that are challenging in batch. However, they typically offer a much slower mass transfer with poorer control of residence time compared to tubular reactors. Stoli Chem's Scalable Agitated Baffle Reactor (SABRe) combines the benefits of flow tubular reactors with the scalability and wide scope provided by conventional CSTRs.
The SABRe reactor was used with the versatile R-Series flow chemistry platform. The required high flow rates were achieved by using a R2HF C high flow rate pump module, and the temperature of the SABRe reactor was controlled via the R-Series Software, as well as the collection window.
Dr Manuel Nuño commented: "By using the SABRe in our R-Series platform, we could investigate the use of CSTRs for biphasic reactions. This is a great example of collaborative work. Stoli Chem has developed a great CSTR reactor, and we could bring it to test by simply connecting it to our flow chemistry platform.
The Stevens oxidation yielded full conversion of 4-nitrobenzaldehyde to methyl 4-nitrobenzoate with a residence time of 5 minutes, achieving a throughput of 60 g/h. This set up achieves a throughput of 1.4 kg/day with the footprint of a single lab fume hood.