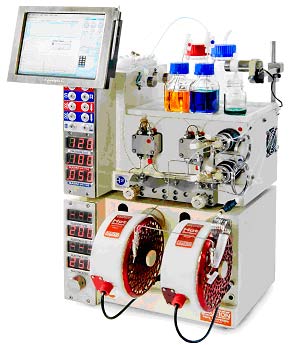 Vapourtec (Cambridge, UK) will be exhibiting their flow chemistry systems and latest reactor technologies at the forthcoming 249th ACS (American Chemical Society) National Meeting and Exposition, to be held in Denver (March 22-24) (booth 1307).
Cited in over 150 peer-reviewed publications to date, Vapourtec will be showcasing their modular R-Series flow chemistry systems as well as the innovative UV-150 photochemical reactor to delegates attending the event.
Vapourtec founder and MD Duncan Guthrie explained: "The ACS National Meeting is one of the major events in the chemistry calendar and a perfect opportunity to liaise with existing and potential customers across North America.
"This year's meeting has the theme of chemistry of natural resources. Vapourtec's range of continuous flow high pressure, high temperature reactors are ideally suited to reactions leading to green hydrocarbon biofuels and other high value bio-derived chemicals.  Our newly developed photochemical reactor is opening a whole range of new research opportunities in this area," added Duncan.
Vapourtec design and manufacture flow chemistry systems for a wide variety of sectors including education, pharmaceutical and industry with their technologies used by all of the major pharmaceutical brands.
Established in 2003, Vapourtec has developed a flourishing international market for its technology with sales across much of the world. Cited in over 150 peer review publications globally, Vapourtec's systems lead the way in terms of flow chemistry and photochemistry research breakthroughs.
For more details please visit Vapourtec.com
To book a meeting with a Vapourtec representative please contact Stacey Crane, [email protected].
For a full list of Vapourtec events visit our events page
Find out more