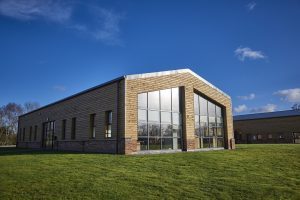 It is fair to say that 2017 was a momentous twelve months in the 15-year history of Suffolk-based specialist flow chemistry firm Vapourtec!
A move in the autumn to purpose-built, enlarged premises close to Cambridge, four new appointments and two exciting new products in development. Burgeoning demand from US, Europe and Indian markets contributed to Vapourtec's best year in business yet.
Vapourtec MD and founder Duncan Guthrie explained: "2017 marked an exciting chapter for Vapourtec with a new HQ that gives us further capacity for growth and space to breath! Despite the challenges presented by the move we have still managed to record our best growth figures and that is very encouraging."
"We have welcomed four new staff on board with further appointments in the offing as we seek to build on impressive growth in key international markets including, USA, Europe and India where our partnership with Pi Process Intensification and their CEO Vijay Kirpalani is proving very productive. The significant uptick in demand in our larger markets in USA and Europe is particularly exciting."
"Our UV-150 photochemical reactor has proved very popular in 2017 together with interest in our long established R-Series flow chemistry system from academia and industry. We continue to lead the way by a distance within the field of flow chemistry with over 430 peer review publications citing our technologies within research papers."
"We have created a solid platform for further growth and will be hoping for more of the same in 2018! Thank you to all our Customers and Distributors, it was a pleasure working with you through 2017, our aim is to further improve customer experience in 2018" added Duncan.