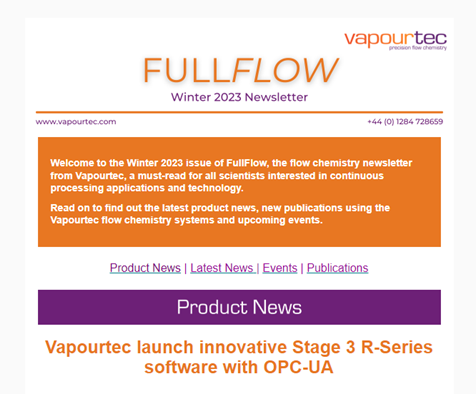 The latest issue of our FullFlow newsletter, the flow chemistry newsletter from Vapourtec, was sent out to our newsletter subscribers this week.
Four times a year, you can get a quarterly newsletter from Vapourtec delivered right to your mailbox. Signing up means you can access the most recent application notes that demonstrate the variety of syntheses that are possible with the Vapourtec system, the latest product news, new publications using the Vapourtec R-Series and E-Series flow chemistry systems, and upcoming events where you can view Vapourtec products and speak to a member of our highly knowledgeable team.
Our first edition of the FullFlow 2023 newsletter includes a feature on Vapourtec's latest product launch of the innovative stage 3 software with OPC-UA for the R-Series system. It also contains some exciting news about Vapourtec's latest new pilot scale development, upcoming events, and 6 recent publications selected from the vast amount published citing Vapourtec since the last newsletter in Autumn 2022.
You can find our newsletter archive here, created so that our new subscribers don't miss out on any important news from our previous editions.
Sign up today to receive the latest news, and become one of more than 2,000 people that have joined our newsletter community already. Signing up for our mailing list also means you will get a monthly bitesize round-up of every publication Vapourtec was mentioned in that month – so convenient!