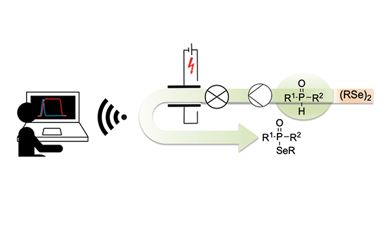 Vapourtec's Ion electrochemical reactor has been featured in the latest issue of Synlett, on the article "Accelerating Electrochemical Synthesis through Automated Flow: Efficient Synthesis of Chalcogenophosphites" [1].
Novel electrochemical synthesis of chalcogenophosphites
In this manuscript, taking advantage of Vapourtec's high levels of automation, Thomas Wirth's team explored a novel electrochemical flow approach to rapidly synthesise several chalcogenophosphite compounds.
Organic molecules with phosphorous-chalcogen bonds usually exhibit bioactive properties, which are of interest for new drug or pesticide design. The "traditional" chemical route to create these heteroatom moieties, involves the use of expensive catalysts, hazardous reagents and long reaction times.
Dr Manuel Nuño commented: "Working with hazardous phosphorous or selenium compounds is another great example for flow chemistry. Handling hazardous reagents with minimal human contact is possible with our systems, allowing for reactions to take place safely. But in this case, the team at Cardiff University used an electrochemical approach to synthesise these moieties under mild conditions.
By using the Ion electrochemical reactor, a phosphite derivate and chalcogenide were coupled without the need of any catalyst. They also proposed a mechanism for this reaction, which suggests that the chalcogenide is reduced in the cathode, generating a radical that reacts with the phosphite.
Fully automated library electrosynthesis
The R-Series modularity and ease of integration with other equipment played a crucial role for this research outcome. By configuring R-Series with a liquid handler, it allowed the team at Cardiff to design and run high-throughput library syntheses with minimal human input. They were able to evaluate different reaction conditions and synthesise + 20 different compounds in a fully automated way.
Thomas Wirth's team has published before high-throughput screening using Vapourtec systems [2] and most notably, the work they reported late 2019, in which they combined high-throughput synthesis with inline HPLC analysis [3], allowing them for a fast reaction optimisation.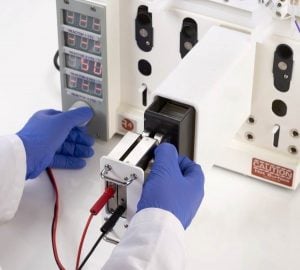 Electrochemistry in flow
With just over a year in production, the Ion electrochemical reactor has been already featured in several papers, highlighting the limitless applications of electrochemistry in flow.
"Thomas Wirth is leading the way setting electrochemistry as a viable organic synthetic tool, allowing for a more efficient alternative to traditional methods. His team is using the Ion reactor to further explore electrochemistry, and thanks to their findings, we see every day more interest in our electrochemical reactor."
References
[1]         N. Amri and T. Wirth, "Accelerating Electrochemical Synthesis through Automated Flow: Efficient Synthesis of Chalcogenophosphites," Synlett, 2020, doi: 10.1055/s-0040-1707141.
[2]        N. Amri and T. Wirth, "Automated Electrochemical Selenenylations," Synthesis (Stuttg)., vol. 52, no. 12, pp. 1751–1761, 2020, doi: 10.1055/s-0039-1690868.
[3]       M. Elsherbini and T. Wirth, "Electroorganic Synthesis under Flow Conditions," Acc. Chem. Res., vol. 52, no. 12, pp. 3287–3296, Dec. 2019, doi: 10.1021/acs.accounts.9b00497.
To read the paper featured in this article click here
To find out more about Vapourtec's Ion electrochemical reactor click here
To view a video demonstration of Vapourtec's Ion electrochemical reactor click here