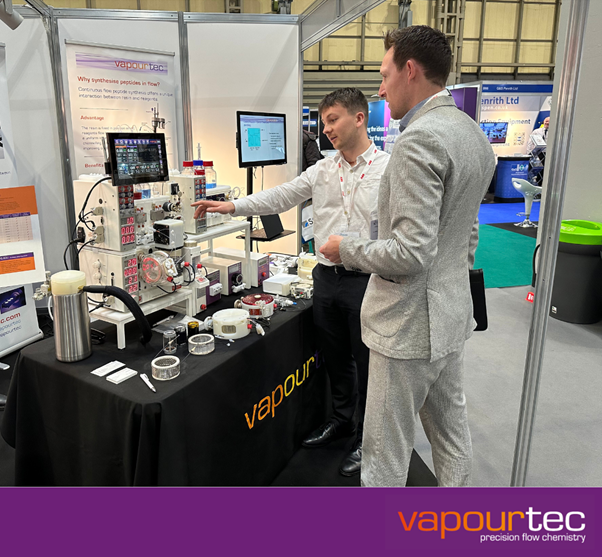 Vapourtec, a leading R&D manufacturer of flow chemistry systems, significantly impacted the recent ChemUK exhibition held at the National Exhibition Centre (NEC) last week. The company's Managing Director, Duncan Guthrie, and Distributor Manager, Ali Deuchars, were present at the event, exhibiting Vapourtec's cutting-edge technologies and engaging with industry professionals.
ChemUK, one of the UK's largest events for the chemical industry, provided an ideal platform for Vapourtec to showcase their latest advancements in flow chemistry. With a focus on sustainable and efficient processes, the company's solutions garnered considerable attention from attendees, including researchers, chemists, and process engineers.
Duncan Guthrie, the Managing Director of Vapourtec, delivered a highly anticipated presentation titled "Scale up solid phase peptide synthesis in flow and reduce time to market for new drug development." The audience was captivated as Guthrie delved into the innovative application of flow chemistry in the field of solid phase peptide synthesis (SPPS).
Guthrie's presentation focused on the significant challenges faced in traditional batch-based SPPS methods and how flow chemistry offers a transformative solution. He highlighted the potential to scale up peptide synthesis processes by integrating flow chemistry techniques, enabling more efficient and streamlined production. By leveraging the advantages of flow chemistry, including precise control of reaction parameters and continuous flow of reagents, Vapourtec aims to revolutionise the synthesis of peptides and reduce the time to market for new drug development.
During the presentation, Guthrie emphasized the benefits of improved yields, reduced reaction times, and increased automation, leading to accelerated drug discovery and development. The audience was particularly intrigued by the concept of using flow chemistry to optimize and expedite the production of peptides, which play a crucial role in the development of novel therapeutics.
Meanwhile, Vapourtec's booth was a hub of activity. Ali Deuchars, Distributor Manager at Vapourtec, engaged in numerous discussions with potential clients and partners, highlighting the versatility and scalability of Vapourtec's solutions. He emphasized the company's commitment to providing tailored solutions that meet the evolving needs of the chemical industry.
As the event concluded, the Vapourtec team expressed their enthusiasm for the positive feedback received at ChemUK and their commitment to ongoing research and development to meet the industry's ever-evolving demands.
Learn more about flow chemistry