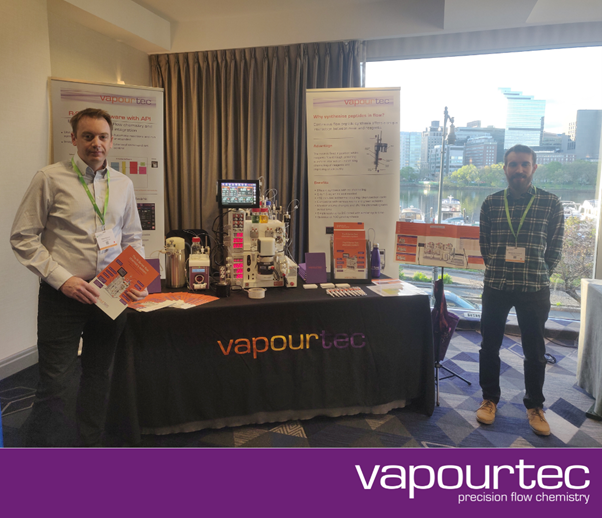 Vapourtec Ltd, the leading provider of flow chemistry systems, is excited to announce its participation in the Flow Chemistry and Continuous Processing Conference 2023 in Boston, USA. The event will bring together leading researchers, experts, and industry professionals to discuss the latest advancements and trends in flow chemistry and continuous processing.
As a key player in the field of flow chemistry, Vapourtec is eager to showcase its latest innovations and developments in the industry. The company will be exhibiting its flagship product, the R-Series flow chemistry system, along with other cutting-edge technologies. Attendees will have the opportunity to learn about the capabilities of Vapourtec's systems, such as precise temperature and flow rate control, integrated real-time monitoring, and modular design for flexible customisation.
"We are thrilled to be a part of the Flow Chemistry and Continuous Processing Conference 2023 in Boston," said Chris Butters, Vapourtec's Operations Manager. "This event presents an excellent opportunity for us to connect with other experts and share our latest advancements in flow chemistry technology. We are particularly excited to showcase our R-Series system, which has been designed to meet the needs of both academic and industrial customers, offering unparalleled flexibility, scalability, and safety."
Vapourtec's presence at the conference is expected to attract a lot of attention from attendees. The company's innovations in flow chemistry have been recognised worldwide, and its products have been used in a wide range of applications, including pharmaceuticals, fine chemicals, and materials science.
With the increasing demand for efficient and sustainable manufacturing processes, Vapourtec's participation in the Flow Chemistry and Continuous Processing Conference 2023 is timely. By providing a platform to exchange knowledge and ideas, the conference will enable Vapourtec and other stakeholders in the field to collaborate and drive innovation towards a more sustainable future.
"We look forward to engaging with the attendees and sharing our insights on the latest advancements in flow chemistry". said Butters. "Our goal is to enable our customers to achieve their research and manufacturing goals efficiently and sustainably, and this event provides an excellent opportunity to showcase how we can help them achieve those goals."
Today is the last day of the conference so make sure to stop by at stand 2 to have a chat with the team!
Attend Flow Chemistry and Continuous Processing