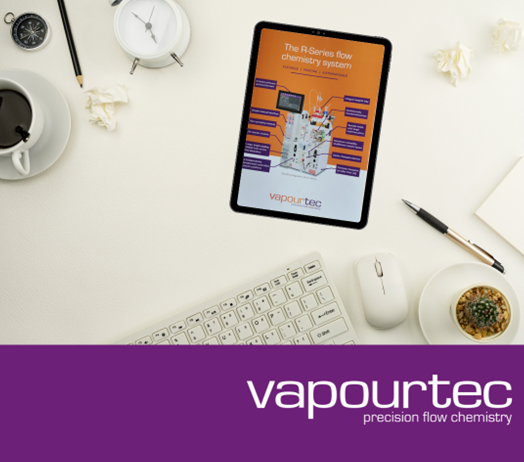 Vapourtec, a leading provider of innovative flow chemistry solutions, celebrates 20 years at the forefront of flow chemistry technology.
As part of the celebrations to mark 20-years, Vapourtec has unveiled refreshed product literature. The company presents new E-Series and R-Series brochures as well as a selection of new datasheets, with improved product and application information together with promotional material set to be released in the coming months. Vapourtec is also in the process of developing a new website that will showcase its comprehensive range of products in a streamlined and user-friendly way.
The new literature is an exciting development for Vapourtec, reflecting the company's commitment to staying at the forefront of the flow chemistry industry. With a focus on innovation, quality, and customer service, Vapourtec's new literature is designed to show the versatility, quality and performance of its industry-leading products.
The E-Series and R-Series brochures showcase Vapourtec's latest products and highlight the features and benefits of each system configuration, providing detailed system specifications, as well as a reactor catalogue. With clear and concise information presented in an eye-catching format, the brochures are an essential tool for anyone interested in flow chemistry.
In addition to the brochures, Vapourtec has also developed five new datasheets that provide in-depth information on key products and technologies. The datasheets cover a range of topics, from photochemistry and electrochemistry to software tools enabling AI integrations and are designed to help customers understand the benefits of using flow chemistry in their research and development projects.
Looking ahead, Vapourtec is excited to be launching its new website later in this 20th anniversary year. The website will provide a comprehensive overview of Vapourtec's products and services, with easy-to-navigate pages and detailed information on each system. The new website will still provide its renowned knowledge base though, which will continue to provide insights and advice on the latest developments in flow chemistry.
Overall, Vapourtec's new literature and website development reflects the company's ongoing commitment to excellence and innovation. With a range of new products and promotional materials on the horizon, Vapourtec is poised to continue leading the way in flow chemistry and helping customers achieve their research and development goals.