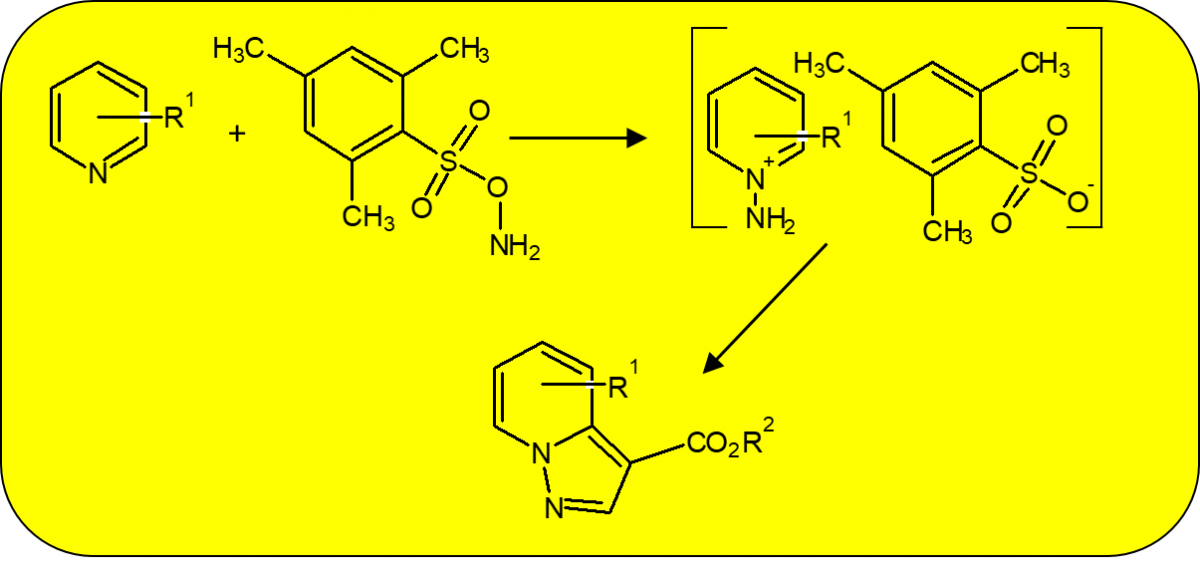 An excellent new paper by Brocklehurst et al., from the Synthesis and Technologies group at Novartis, demonstrates how the Vapourtec 4-pump R-Series can be used to generate and react highly unstable species in-situ, during the preparation and consumption of a highly unstable reagent: O-mesitylsulfonylhydroxylamine (MSH).
MSH is a useful aminating reagent, preferable to other aminating reagents because of its rapid and clean amination of many pyridines. MSH is challenging to use though; with a decomposition temperature just above room temperature, use for hundreds of grams scale introduces a significant hazard.
The R-Series can be equipped with up to four pumps, and can house four different reactors simultaneously. Brocklehurst et al. have used this capability to great effect by deprotecting the commercially available MSH acetimidate pre-cursor in one reactor, mixing this with the amination substrate in a second and finally generating the reactive MSH and aminating the substrate in a third reactor. This approach has enabled the use of MSH without the need for isolating it as a solid by the quenching, filtration and drying steps required in its usual preparation. Using this method, Brocklehurst has been able to synthesise a range of pyrozolopyridine building blocks, useful for medicinal chemistry, from different substrates.
This work has demonstrated the versatility offered by the R-Series for the handling of hazardous materials efficiently and safely. "Highly unstable and reactive reagents, like MSH, present a significant risk to the user and others in the lab" says Dr Ryan Skilton, Research Scientist at Vapourtec "but by using the R-Series, the team at Novartis have been able to produce it when needed, and in small quantities inside the reactor. The small amounts formed, and the inherent protection offered by the R-Series greatly reduces the hazard associated with this, and other reagents".
To read more on the original paper click here