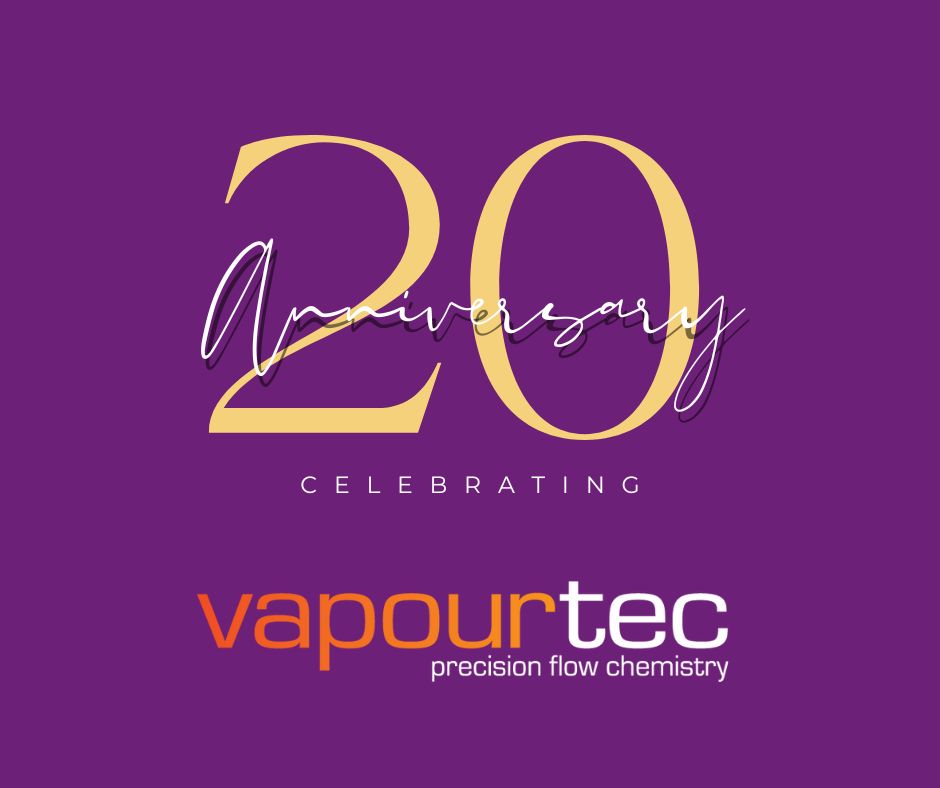 Flowchem firm celebrates two decades of innovation.
Continuous flow synthesis has developed significantly in the 20 years since the formation of UK-based flow chemistry engineering specialists Vapourtec Ltd.
Much of the progress and increase in profile for flow chemistry can be directly attributed to the chemistry and process innovations achieved by Vapourtec's customers. Through 20 years of cutting-edge scientific development, researchers have pushed the boundaries of flow chemistry development as is demonstrated in the 1000 peer-reviewed publications citing Vapourtec products. Vapourtec is both proud and grateful to have been associated in a small way with this research.
Founder and MD Duncan Guthrie explained: "Our success has mirrored that of the flow chemistry sector as a whole. Over the past two decades, the growth in the prominence and productive potential of flow methodology has been spectacular. It offers several advantages over traditional batch chemistry including safety, efficiency, sustainability, and scalability.  It is exciting to see reaction concepts explored at lab scale 20 years ago now being pushed through by innovative companies into safe, efficient, and sustainable chemical manufacturing routes.
"We are proud to have played our small part by helping to facilitate and enable so many exciting discoveries.  Vapourtec would not be here today without the support and assistance of many scientists who have given advice and feedback, collaborated with us, or simply believed enough in us to purchase our products.  There are too many to mention here but thank you all.  The early collaborations were most important in establishing the company and I must mention here two people without whose support and guidance Vapourtec surely would not have succeeded, Dr Elizabeth Farrant (GSK in 2003) and Professor Steven Ley, a special thank you both for the early guidance 20 years ago and through the years that followed.
"From our flagship R-Series system and entry-level E-Series system to our growing range of reactors and pumps, we have always sought to provide education and industry with technologies that can open up new horizons in flow chemistry.
"Back in 2003 I could only have dreamed of the impact that we would have had but we will continue to work with and for the industry and academia to expand the scope and capabilities of continuous process technologies," added Duncan.
Looking back at publications and picking the most cited gives an interesting mixture of work.
1. Continuous-Flow Synthesis of the Anti-Malaria Drug Artemisinin. Angew. Chem. Int. Ed., 2012, 51: 1706-1709.
From Prof Seeberger's group – 440 citations
https://doi.org/10.1002/anie.201107446
2. C(sp3)–H functionalizations of light hydrocarbons using decatungstate photocatalysis in flow. Science. 2020, 369 92-96
From Prof Noël's group – 186 citations
https://doi.org/10.1126/science.abb4688
3. A Novel Internet-Based Reaction Monitoring, Control and Autonomous Self-Optimization Platform for Chemical Synthesis. Org. Process Res. Dev. 2016 20 (2), 386-394
From Prof Ley's group – 182 citations
https://DOI.org/10.1021/acs.oprd.5b00313
4. Electroorganic synthesis under flow conditions. Acc. Chem. Res. 2019, 52 (12) 3287-3296.
From Prof Wirth's group – 158 citations
https://doi.org/10.1021/acs.accounts.9b00497
5. Continuous Flow-Processing of Organometallic Reagents Using an Advanced Peristaltic Pumping System and the Telescoped Flow Synthesis of (E/Z)-Tamoxifen Org. Process Res. Dev. 2013, 17, 9, 1192–1208
From Prof Ley group – 155 citations
https://doi.org/10.1021/op4001548
6. [3 + 2] Cycloaddition of acetylenes with azides to give 1,4-disubstituted 1,2,3-triazoles in a modular flow reactor Org. Biomol. Chem., 2007,5, 1559-1561
From Prof Ley group – 136 citations
https://doi.org/10.1039/B702995K
7. Continuous Preparation of Arylmagnesium Reagents in Flow with Inline IR Monitoring Org. Process Res. Dev. 2012, 16, 5, 1102–1113
From Prof Ley group – 131 citations
https://doi.org/10.1021/op200275d
8. Versatile, High Quality and Scalable Continuous Flow Production of Metal-Organic Frameworks. Sci Rep 2014, 4, 5443.
From the CSIRO team – 122 citations
https://doi.org/10.1038/srep05443
*The number of citations was checked on 28.07.2023
Looking forwards, Vapourtec will continue to innovate.  Over the next 2 years Vapourtec will be sharing four new versatile, easy to use peptide synthesisers based on Vapourtec's patented variable bed flow reactor (VBFR) technology. These flow-based synthesisers will provide all the benefits of fast flow SPPS in scale ranging from 0.05 mmol to 20 mmol.  Looking forwards further, Vapourtec will be providing solutions for flow synthesis of small molecules, peptides and oligonucleotides at pilot scale.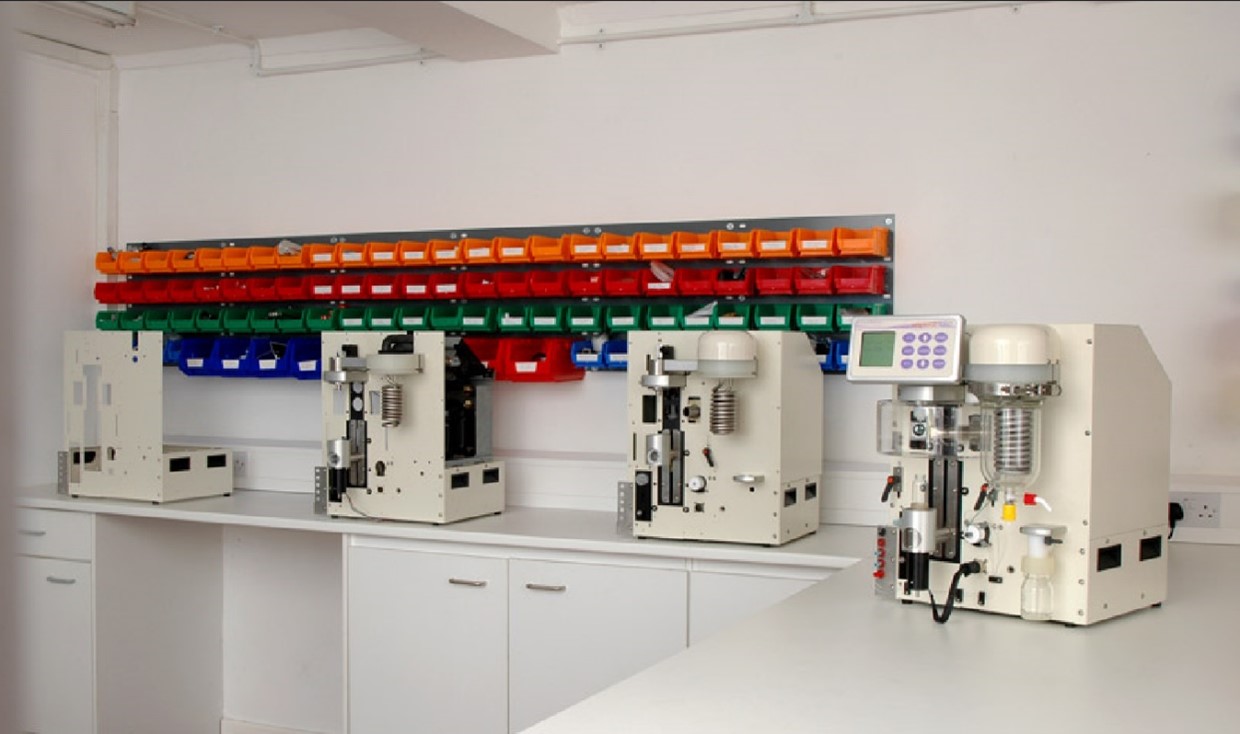 Image of Vapourtec 2003 – Assembly of continuous flow evaporators in "the Cart Lodge"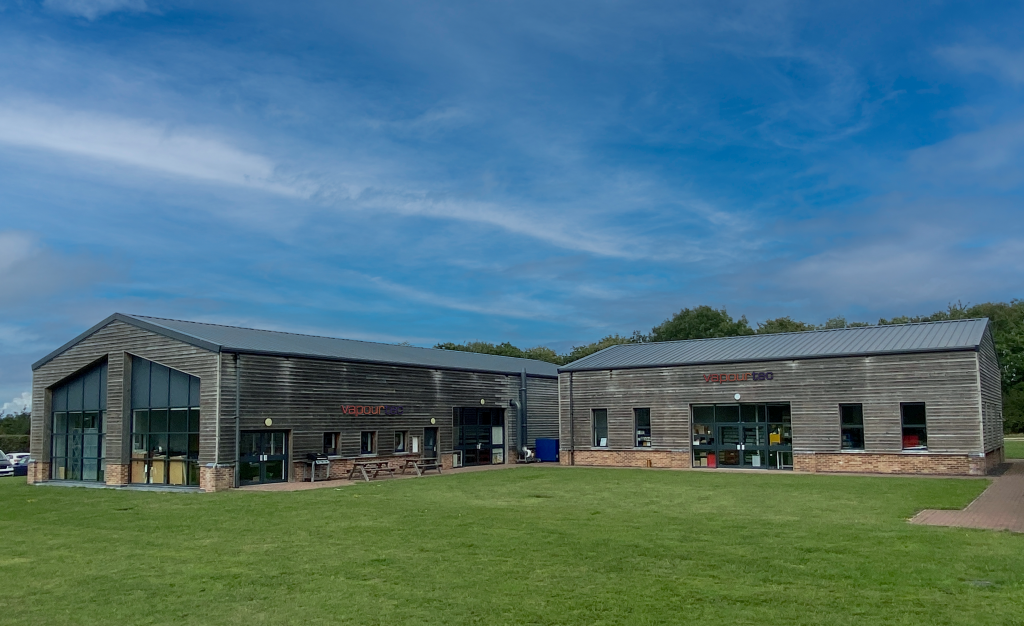 Image of Vapourtec 2023 – External image of Vapourtec's HQ
Learn more about the Vapourtec R-Series
Learn more about the Vapourtec E-Series