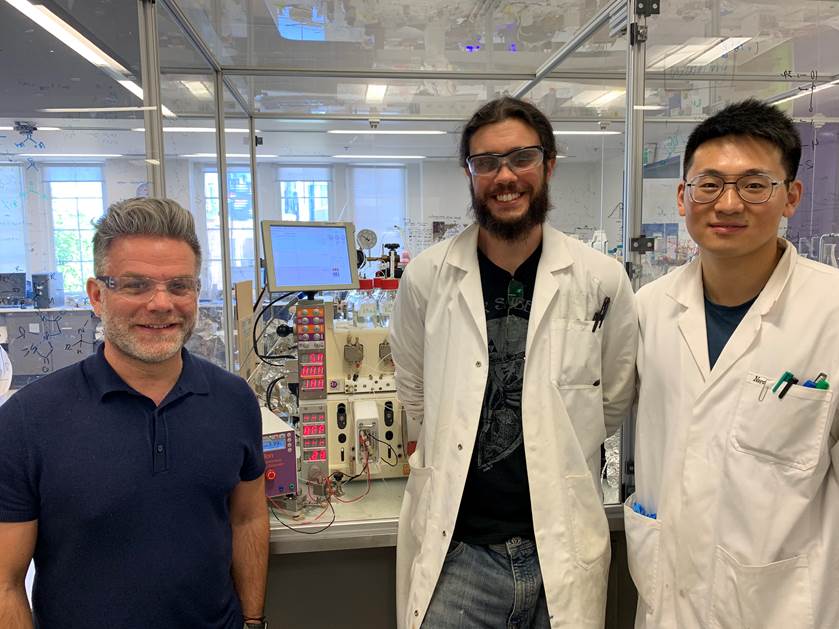 The Polyzos Group at Melbourne University is currently collaborating with Vapourtec with the aim of exploring novel electrochemical reactions using Vapourtec's Ion electrochemical reactor.
The partnership commenced in April 2019 and has progressed well with the results due to be published early in 2020.
This collaboration has been built on a decade of close co-operation between Dr Polyzos and Vapourtec, notably Chris Butters and Duncan Guthrie, and started when Dr Polyzos was undertaking post-doctoral research at University of Cambridge under the guidance of Professor Steven V. Ley FRS.
Dr Polyzos began his independent career in 2015 when appointed as Senior Lecturer at the University of Melbourne with research interests that included the development of new methods and enabling technologies for organic synthesis, photocatalysis, C-H reaction discovery and the development of sustainable industrial process chemistry.
Continuous flow chemistry is just one of the tools used by the Polyzos Group to further their research.  The Group has a close working relationship with CSIRO (Commonwealth Scientific and Industrial Research Organisation) and Monash University where they have access to additional lab space. The Group's research team for the project includes Mr Jose Forni and Mr Xiaocong 'Nero' Guan.
Dr Polyzos commented: "My team aims to leverage the flexibility and versatility of the Vapourtec Ion Electrochemical reactor to facilitate the exploration of novel electrochemical reactions.
"This is proving to be a very productive and successful collaboration using a reactor that really is helping to expand the potential and increase the scope of electrochemistry."
Vapourtec's Manuel Nuno explained: "The flexibility of the Ion reactor has been a key factor allowing the screening of 20 different electrode materials, operation at a range of different temperatures and most notably operation under pressurised conditions.  For this work the team at Melbourne has integrated the Ion electrochemical reactor with one of their R-Series flow chemistry systems allowing full automation of the reaction conditions and logging of data from the reactor.  This data includes, temperature, pressure, cell current and cell voltage, all collected in real time.
"The work is progressing very well thanks to the impressive dedication of the Polyzos Group and has already notched a number of significant achievements. We look forward to reporting in more depth once this exciting work has been accepted for publication," added Manuel.
To read more about the Vapourtec electrochemical reactor click here
To read more about the R-Series system click here