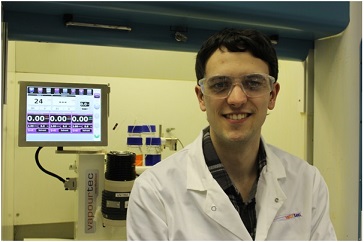 Leading flow chemistry specialists Vapourtec (Cambridge, UK) have expanded their team with the appointment of Joseph Moore as Research & Development Chemist.
Joseph, who graduated from University of Warwick with a Chemistry degree in 2012, will work with the R & D team at Vapourtec in developing new applications for Vapourtec's existing range of continuous chemical process systems and technologies as well as testing and evaluating new products.
Joseph commented "I'm delighted to get this opportunity with Vapourtec who are one of the global leaders in flow chemistry innovation.
"I can see my role getting ever busier as awareness of the potential benefits of flow chemistry increases!" he added.
Vapourtec founder and MD Duncan Guthrie said: "We are pleased to welcome to Joseph on board. His excellent analytical skills will undoubtedly help us to stay at the cutting edge of innovation in this field."
Find out more