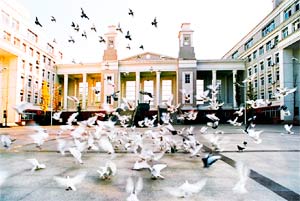 Vapourtec (Suffolk, UK) has recently signed a pioneering, 3 year agreement with Nanjing University of Technology (NJUT) in China to establish a joint operation in the fast growing, hi tec field of flow chemistry.
The partnership involves the establishment of a dedicated flow chemistry research lab at the Chinese university officially named 'Vapourtec and Tegent – NJUT Joint Research Centre for Micro-fluidics Technology'. The specific aim of the research lab is to manufacture useful chemical compounds from bio-mass using Vapourtec-manufactured technology including their R-series systems.
Professor Kai Guo from the NJUT's College of Biotechnology and Pharmaceutical Engineering, said "The technology and knowledge of Vapourtec will play a vital role in the evolution of our new flow chemistry research laboratory and the partnership represents a major step forward in joint research activity.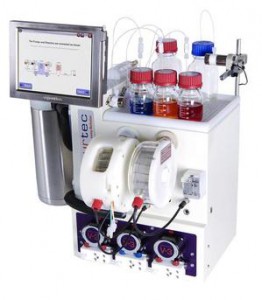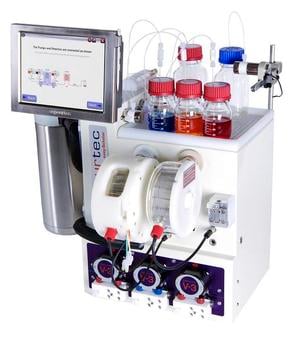 "NJUT already has a well established joint degree programme link with Sheffield University's Chemistry Department in which Chinese chemistry students spend their final year of studies in the UK," added Professor Kai Guo.
Vapourtec founder and MD Duncan Guthrie explained: "This is an industry first as far as we are aware and will see Vapourtec and our partner in China, Tegent sharing knowledge and resources with chemists at NJUT to develop the use and capability of flow chemistry processes in the Far East.
"It is the result of a long period of engagement with NJUT and represents a significant investment by both parties in the unlimited potential of green flow chemistry.
"The Chinese have, for many centuries, been innovators in the field of Green Chemistry with the highly successful isolation in the 1980s of anti-malaria drug Artemisinin being a perfect demonstration of their capabilities.
"Their ancient wisdom and knowledge of plant properties and applications is now forming an important part of the planned flow chemistry research at Nanjing University of Technology," added Duncan.
Founded in 2003, Vapourtec is established as one of the leading global manufacturers of flow chemistry systems for a wide range of industries across the world including education and pharmaceuticals. The company has its development labs at Bury St Edmunds (UK) and a regional office in Kuala Lumpur (Malaysia) and has received over 100 citations within peer review publications, significantly more than anyone else in their market.