Researchers at the University of Southampton and GlaxoSmithKline have used Vapourtec's R-Series flow chemistry system to synthesise Ketones in Flow by thermal sigmatropic rearrangement of alkoxyalkynes, and their trapping with amines or alcohols to provide amides and esters.
The Researchers added an inline IR spectrometer to a Vapourtec system equipped with FlowCommanderTM software and a fraction collector.   This informative paper then describes how by programming a series of automated experiments varying reaction time and temperature kinetic data can be readily established.   Kinetic data derived from inline IR spectroscopic monitoring, offline NMR and literature sources are compared with good correlation.
Schematic representation of the flow set-up for a single channel sample-loop reaction with stainless steel reactor, inline IR spectroscopy, and fraction collector for offline validation by NMR spectroscopy.
European Journal of Organic Chemistry
Volume 2015, Issue 7, pages 1491-1499, 20 JAN 2015 DOI: 10.1002/ejoc.201403603
Generation and Trapping of Ketenes in Flow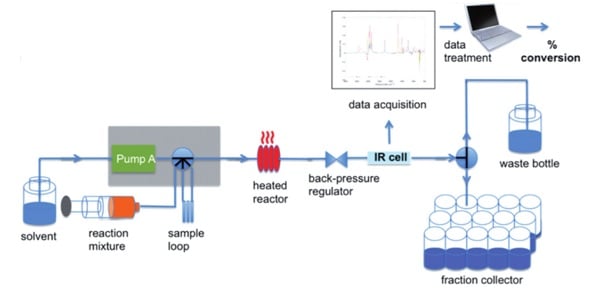 Temperatures of 180°C, 160°C and 140°C were required with a 10 minute reaction time for a >95% conversion of EtO,  iPrO and tBuO alkoxyalkynes respectively.  Clearly demonstrating the capability of flow reactors to operate at reaction temperatures well above the normal boiling point of solvents (in this case toluene).
This paper shows an excellent example of how Vapourtec's R-Series flow chemistry  system equipped with a inline IR spectrometer can be used to rapidly optimise reaction conditions and obtain valuable kinetic data.
View the full Generation and Trapping of Ketenes in Flow paper
Find out more