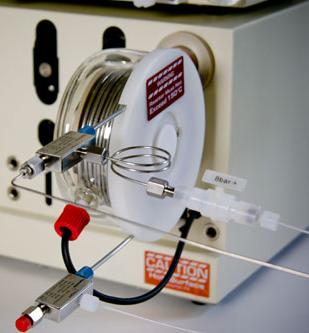 Revolutionary tube in tube membrane reactor, compatible with all existing Vapourtec systems.
Pressurised gas diffusesinto reagent stream as it passes through the reactor. Ideal for
Carbonylations
Hydrogenations
Unique design allows gas to be supplied to heated reaction as the reaction is proceeding (rather than predissolving the gas in solvent before entering the reactor proper).  This makes it possible (for example) to carry out hydrogenation at 1M concentration.
Find out more