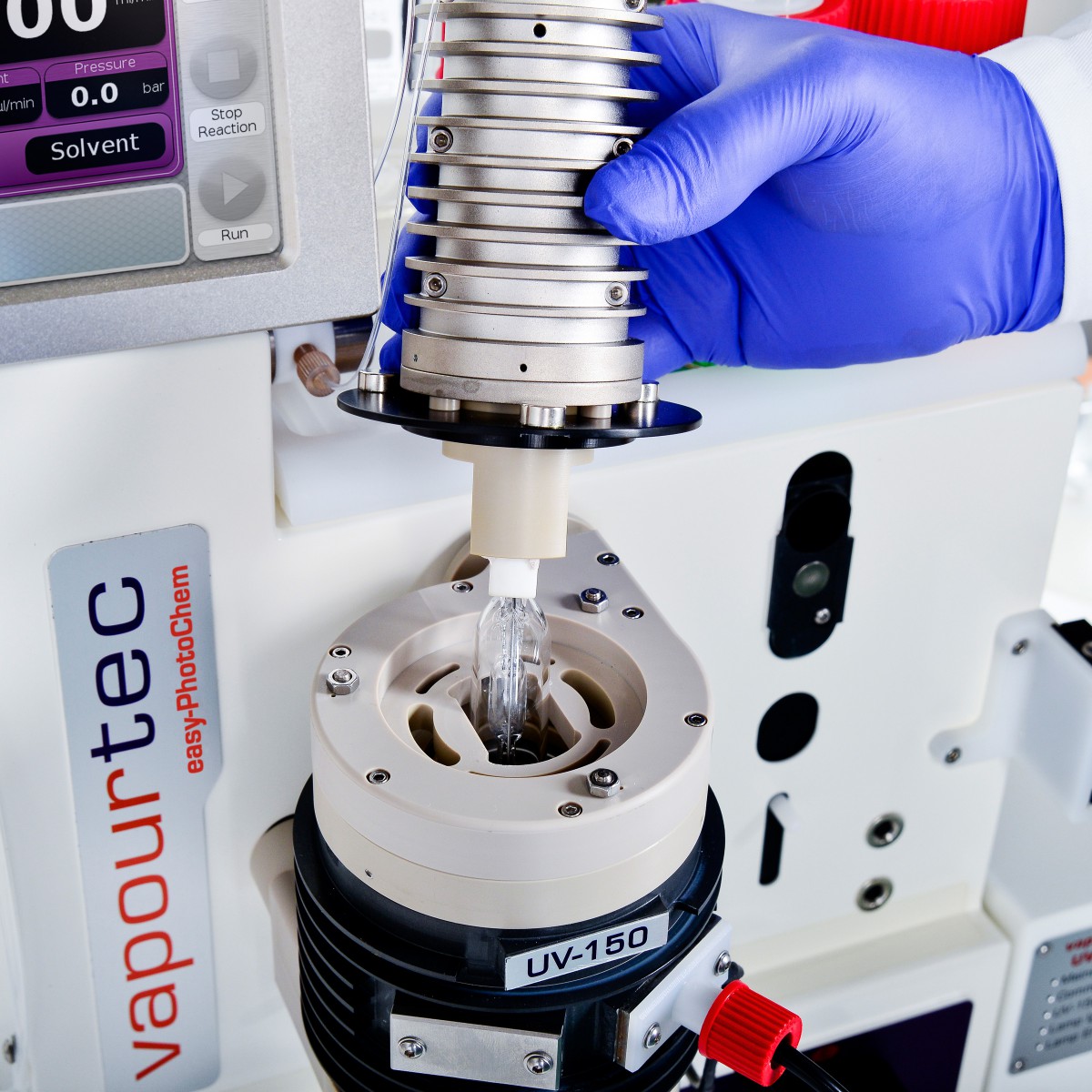 There are a number of key advantages of a continuous flow approach to photochemistry over a traditional batch method including consistent light penetration, controlled exposure times, precise temperature control and easy scalability as well as the removal of photochemical products from the irradiated area.
Comparing the two methods when it comes to the Photochemical Transformation of Methyl Coumalate reveals the substantial efficiencies and economies that can be accrued from the flow chemistry route.
The photochemical transformation of methyl coumalate to the pyrone via electrocyclisation has been shown in the total synthesis of a range of Piperarborenines by Prof. Phil Baran's group1 2.
Baran et al performed the photochemical reaction under traditional batch conditions irradiating his reaction in a jacketed quartz immersion well with a pyrex filtered 450W mercury lamp. Studies carried out by Prof. Reva show this transformation to be wavelength dependant with wavelengths >295nm necessary to prevent side reactions occurring3.
Vapourtec's Application Note 37 demonstrates the advantages of performing this reaction under continuous photochemical conditions using the UV-150 reactor and highlights the important effects of wavelength filtering and temperature control on reaction outcomes.
Vapourtec MD Duncan Guthrie concluded: "Making a like for like comparison between flow and batch is not always possible but there are clear advantages of a flow approach with this particular reaction.
"To manufacture the same 1 gram of material we recorded an eight fold decrease in reaction times, an eight fold decrease in the amount of solvent used, a thirty fold decrease in the energy consumed by the lamp.
"A continuous photochemical approach is revealed to be a much more efficient and greener method.
"The unique and easy-to-use design of the UV-150 gives access to photochemistry that is not readily available to most chemists. This safe and convenient tool now gives chemists the ability to start to think photo-retrosynthetically, develop new synthetic routes and opens up novel chemical space and molecules."
Download Application Note 37