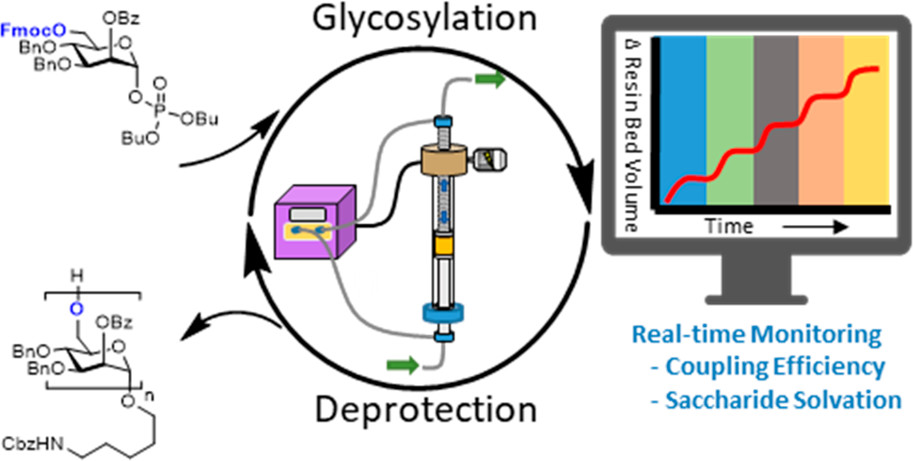 Vapourtec's new reactor, the Variable Bed Flow Reactor (VBFR), has been featured in the latest issue of Organic Letters, on the article "Automated Glycan Assembly in a Variable-Bed Flow Reactor Provides Insights into Oligosaccharide–Resin Interactions"1.
We are delighted to report further highly significant results from our collaboration with Prof. Dr. Peter Seeberger and his team, at Max Plank Institute of Colloids and Interfaces. For a year they have been exploring the benefits of utilising the VBFR in different solid-phase synthesis applications.
The VBFR is a new generation of packed bed reactors, where reactor volume is not a fixed parameter for continuous flow reactions anymore. A VBFR will adjust its internal volume to maintain a consistent packing density of the solid media. When a coupling step occurs, the reactor will expand along with the packed media and when a protective group is removed, the VBFR will reduce its volume to account for the mass loss. When used in solid-phase synthesis, this feature allows for an efficient and highly controlled synthesis, whilst providing valuable in-line data. UV detection and resin swelling can be easily used to evaluate the completion of the reaction and learn about aggregation events and any other event that result in volume changes.
Vapourtec developed the VBFR for continuous flow solid-phase peptide synthesis (CF-SPPS)2,3, but it was clear since the beginning the scope of this reactor was not just limited to peptides, as the synthetic route of oligosaccharides and oligonucleotides follows the same chemical principles.
Vapourtec's Dr Manuel Nuño commented: "The findings of this publication are remarkable, as they provide an insight never seen before in oligosaccharide synthesis."
Oligosaccharides are gaining popularity amongst the research and pharmaceutical industry, but they are not new. For over 80 years, heparin, a type of oligosaccharide has been widely used as an antithrombotic drug4, and carbohydrate-based vaccines have been used for decades4,5.
The synthesis of oligosaccharides comes with its own challenges, especially with the extreme difficulty of obtaining accurate in-line monitoring1,6.
In this manuscript, the authors gathered invaluable information of the physicochemical effects of each synthetic step, allowing the optimisation of the reaction conditions to maximise yield. At the same time, the gathered data by Flow Commander™, allowed them to compare volume changes with the theoretical saccharide volumes, the authors were able to evaluate solvation effects and how it changed as the saccharide elongated.
Refrences:
1. Sletten, E. T., Danglad-Flores, J., Nuño, M., Guthrie, D. & Seeberger, P. H. Automated Glycan Assembly in a Variable-Bed Flow Reactor Provides Insights into Oligosaccharide–Resin Interactions. Org. Lett. (2020) doi:10.1021/acs.orglett.0c01264.2. Vapourtec Ltd. Continuous Flow-based Solid-phase Peptide Synthesiser. https://www.vapourtec.com/wp-content/uploads/2017/11/Automated-Peptide-Synthesis.pdf.
3. Sletten, E. T., Nuño, M., Guthrie, D. & Seeberger, P. H. Real-time monitoring of solid-phase peptide synthesis using a variable bed flow reactor. Chem. Commun. (2019) doi:10.1039/C9CC08421E.
4. Seeberger, P. H. & Werz, D. B. Synthesis and medical applications of oligosaccharides. Nature 446, 1046–1051 (2007).
5. Goldblatt, D. Recent developments in bacterial conjugate vaccines. J. Med. Microbiol. 47, 563–567 (1998).
6. Bennett, C. S. Principles of modern solid-phase oligosaccharide synthesis. Org. Biomol. Chem. 12, 1686–1698 (2014).
To read the paper spoken about in this article click here
For more information about Vapourtec's VBFR please contact us here