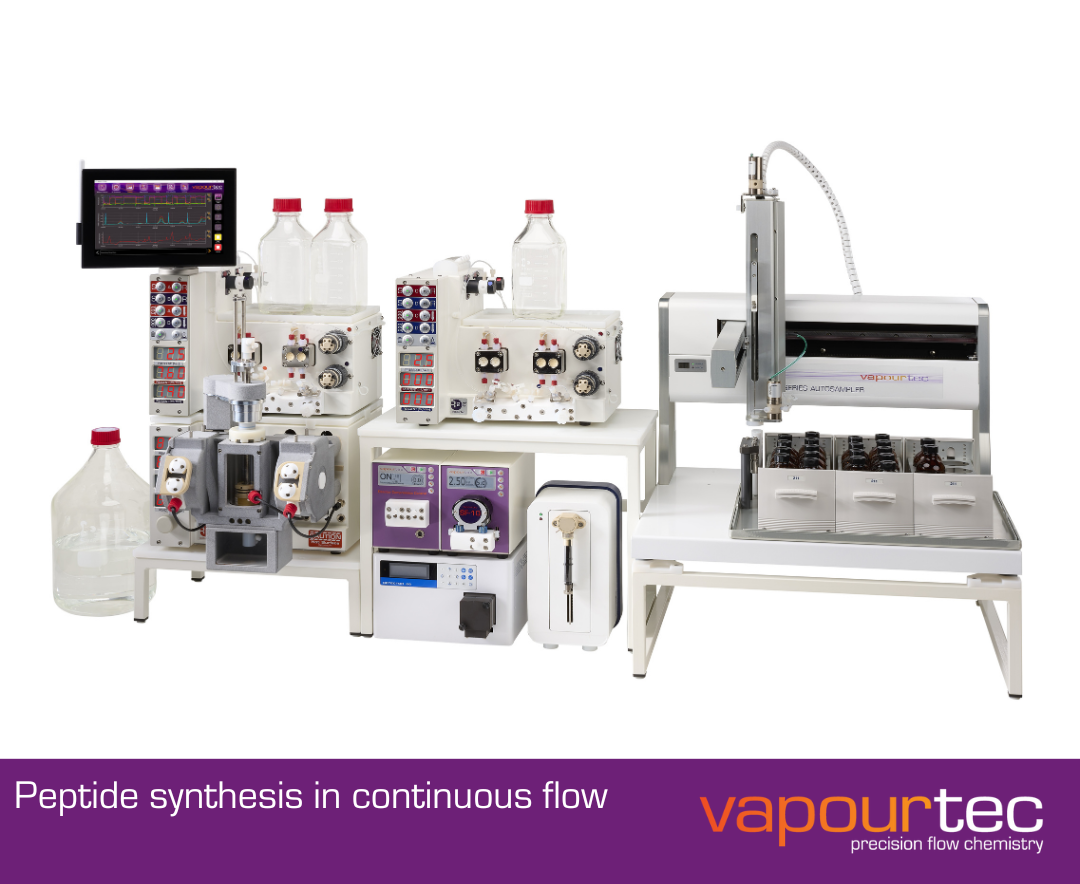 Vapourtec's Peptide-Scaleup™ flow chemistry configuration is targeted at peptide chemists for whom synthesis time is critical.
Substantially more productive and efficient than traditional, room temperature batch scale-up synthesisers, Vapourtec's configuration can typically synthesise a 30-mer peptide at 4 mmol scale in just 16 hours.
With a synthesis scale that ranges from 0.5 mmol to 5.0 mmol, this continuous process utilises Vapourtec's patented variable bed flow reactor (VBFR) which ensures fast cycle times even at the largest scale and provides all the benefits of continuous flow, single pass solid phase peptide synthesis (SPPS).
With a small footprint, the Peptide-Scaleup can be installed within a standard fume hood.
Demands on purification are minimised due to the system delivering the highest quality peptides, in addition, solvent and reagent usage is minimised when compared with competing processes.
Incorporating state-of-the-art software that includes a sequence generator with automated addition of side chains, the configuration also features continuous in-line analytics that comprises unique resin solvation data in addition to UV absorption data.
Ideal for fluorenyl methoxycarbonyl protecting group (Fmoc) SPPS with DIC and oxyma activation, chemistry optimised at small scale on the Peptide-Explorer can be transferred to the Peptide-Scaleup without the need for further development.
Dr Manuel Nuño of Vapourtec explained: "This Peptide-Scaleup system is designed for peptide chemists looking for a more productive and time-efficient synthesis, especially in comparison with traditional batch techniques.
"As the success of new peptide-based drugs continues to spur growth, this configuration expands the potential for impactful chemistry."
For more information about Peptide synthesis click here
For more information about the Peptide-Scaleup click here