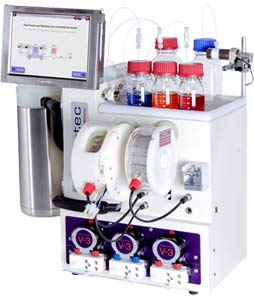 Two of the world's leading flow chemistry systems as well as the latest addition to the field of photochemistry technology will be on show at Chemspec Europe on 18-19 June and IMRET (Conference on Microreaction Technology) 23-25 June. Both events take place in Budapest, Hungary.
Manufactured by UK firm Vapourtec, the E-Series and R-Series continuous process technologies are already established as pioneering systems within flow chemistry and the UV-150 photochemical reactor, launched earlier this year, is making its mark with those interested in photochemistry.
Vapourtec founder and MD Duncan Guthrie explained: "Chemspec Europe and IMRET are prime opportunities for chemists across the globe to uncover cutting edge technologies that will boost their research capabilities.
"The R-Series, E-Series and the new UV-150 definitely fulfil that criteria with some major recent pharmaceutical breakthroughs being directly attributable to Vapourtec systems. Indeed we've been cited in over 125 peer review publications, substantially more than anyone else in the market place.
"We are proud of what we have achieved in the vanguard of flow chemistry engineering across Europe and look forward to many interesting discussions in the Hungarian capital in June," added Duncan.
Founded in 2003, Vapourtec is established as one of the leading global manufacturers of flow chemistry systems for a wide range of industries across the world including education and pharmaceuticals. The company currently employs 12 people in Bury St Edmunds (UK) and Kuala Lumpur (Malaysia).
Vapourtec will be exhibiting on booth A19 at Chemspec Europe and booth #7 at IMRET.