What is Click Chemistry ?
Click chemistry is a chemical philosophy introduced by K. Barry Sharpless in 2001 and describes chemistry tailored to generate substances quickly and reliably by joining small units together.
One of the most popular reactions within the click chemistry philosophy is the azide alkyne Huisgen cycloaddition using a Cu catalyst at room temperature discovered concurrently and independently by the groups of K. Barry Sharpless and Morten Meldal.

This was an improvement over the same reaction first popularized by Rolf Huisgen in the 1970s, albeit at elevated temperatures in the absence of water and without a Cu catalyst.
Click Chemistry in Flow
The first publication outlined below shows what can be achieved using a continuous flow chemistry approach with a copper tube reactor.  This work was not carried out on a Vapourtec system.
Points of particular interest include
Rapid reactions (residence times of typically 5 minutes )
Completely safe handling of energetic organic azide intermediates.
No loss of copper catalyst activity after hundreds of reactions
The copper tube reactor effectively catalyzed other copper-mediated reactions such as the Sonogashira and Ullman couplings too!
The Use of Copper Flow Reactor Technology for the Continuous Synthesis of 1,4-Disubstituted 1,2,3-Triazoles
Andrew R. Bogdana and NealW. Sachb,*
a Cornell University, Department of Chemistry and Chemical Biology, Ithaca, NY 14853, USA
b Pfizer Inc., Global Research and Development,  San Diego, USA
A library of 1,4-disubstituted 1,2,3-triazoles was synthesized using a copper flow reactor.
Organic azides, generated in situ from alkyl halides and sodium azide, were reacted with acetylenes using the copper-catalyzed Huisgen 1,3-dipolar cycloaddition. This process eliminates both the handling of organic azides and the need for additional copper catalyst and permits the facile preparation of numerous triazoles in a continuous flow process.
Other Copper catalysed Chemistry in Flow
More recently, the following work was carried out, this time using the Vapourtec system:
Continuous Flow Coupling and Decarboxylation Reactions Promoted by Copper Tubing
Yun Zhang1, Timothy F. Jamison2, Sejal Patel1, Nello Mainolfi1
1 Novartis Institutes for Biomedical Research Inc., Cambridge, USA
2 MIT, Cambridge, USA
A convenient and efficient flow method for Ullmann condensations, Sonogashira couplings, and decarboxylation reactions using a commercially available copper tube flow reactor (CTFR) is described. The heated CTFR effects these transformations without added metals (e.g., Pd), ligands, or reagents, and in greater than 90% yield in most cases examined.
The Vapourtec Copper Reactor – Available Immediately!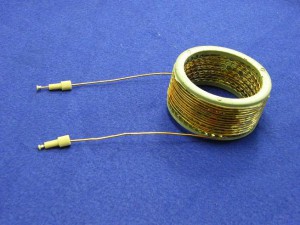 The authors of the first paper above developed their own copper tube reactor.
The authors of the second paper did not need to, because  Vapourtec now offer a copper tube reactor (left) that is immediately compatible with all existing Vapourtec flow chemistry systems.
Vapourtec tube reactors are wound around an open mesh former and heated or cooled with moving air. within a glass manifold.    This means that there is no problem achieving good conductity between the coil and a central former, so the coils can be quickly and easily exchanged by the user.  It also means that should a reactor ever block irretrievably, the component that needs to be replaced is relatively inexpensive.
---
Find out more
If you'd like to find out more about the Vapourtec R Series, its autosampler capability or  the copper reactor,
Then please contact us on +44 (0) 1284 728659 or [email protected]
Keep up to date
If you'd like to be kept up to date with other developments in flow chemistry, click here to signup for the Vapourtec bimonthly email newsletter