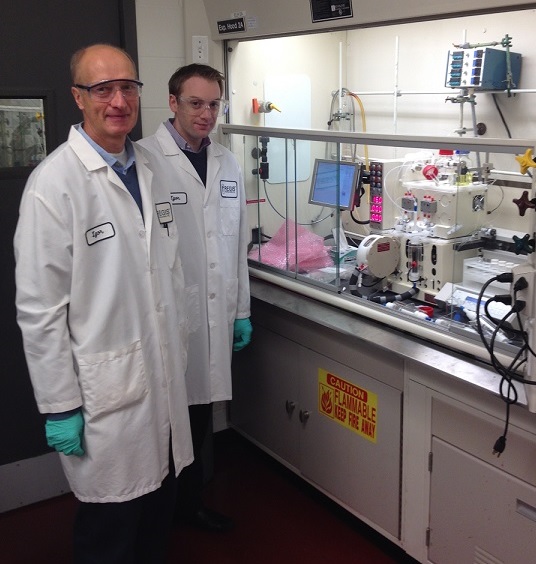 Regis Technologies, a contract research organisation (CRO) based near Chicago, has just taken delivery of a new R-Series continuous processing chemistry system designed and manufactured by UK-based Vapourtec Ltd.
Launched in 2007, the R-Series is a robust, modular continuous processing system that can handle strong acids, highly viscous and moisture sensitive reagents, having a variety of pumping options even allowing the handling of light suspensions. It features an intuitive touch screen interface and advanced automated control software.  The R-Series is used in over 200, pharmaceutical, industrial laboratories and educational across the world.
Continuous processing system:
Chemists at Regis will use the continuous processing system to accelerate process research and development and to perform unique chemical reactions most efficiently under continuous mode from lab scale up to a kilo scale.
Igor Likhotvorik of Regis explained: "The new system was installed in early December by a member of the Vapourtec team with the associated training of our Process Research personnel going very well.
"Our chemists were able to run the reactions on a self contained system, using two major types of heated flow reactors within the first day. The touch panel user-friendly interface and FlowCommander™ software allows reaction conditions to be changed very easily, so that a reaction can be optimized within one day.
"The R-Series is a very exciting instrument and a big step forward in our capabilities," added Dr Likhotvorik.
Vapourtec MD and founder Duncan Guthrie commented: "CROs have been slow to get into flow chemistry and discover the strategic benefits offered by continuous processing over the traditional batch chemistry approach.
"The upturn in the US economy and the growing strength of the dollar makes flow chemistry even more of an affordable proposition for ambitious CROs such as Regis.
"They are genuinely energized by their new acquisition and, like ourselves, recognise the exciting potential of flow chemistry.
"We were up against our major competitors so this is, all round, a win win scenario for all parties and we will be following Regis Technologies' research breakthroughs with interest," added Duncan.
ENDS
Editors Notes:
Founded in 1956, Regis Technologies partners with pharmaceutical and biotechnology companies to help expedite drugs to market. They offer expertise in synthesis, analytical and separation services to advance active pharmaceutical ingredient (API) from initial process development and scale-up development, to final validation and commercial manufacturing. From their extensive organic expertise and collegiate collaborations, they can deliver the added value of innovative, proprietary chromatography products, especially those with a chiral emphasis. www.registech.com
Vapourtec design and manufacture flow chemistry systems for a wide variety of sectors including education, pharmaceutical and industry with their technologies used by all of the major pharmaceutical brands. Established in 2003, Vapourtec has developed a flourishing international market for its technology with sales across much of the world including USA, China, Japan, Singapore and India. www.vapourtec.com
Find out more