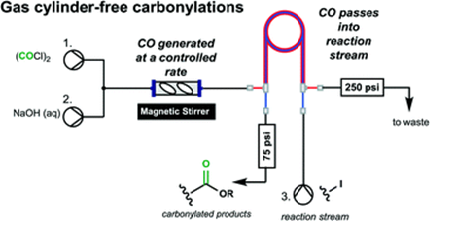 A recent, published research breakthrough by the group of Steven Ley at the University of Cambridge has led to the 'Controlled generation and use of CO in flow'.
Published in Reaction Chemistry & Engineering, the paper features details of a reaction between Sodium Hydroxide and Ozalyl Chloride that generates Carbon Monoxide (CO) at a controlled rate. The resultant CO can then be used in further reactions.
Manufactured using Vapourtec's E-Series flow chemistry system and an acid resistant R-Series system, the work carried out by Steven V Ley and his team was a collaboration with chemists at the University of Southern Denmark in Odense.
The paper describes the use of a tube-in-tube reactor for the safe hydrolysis of Ozalyl Chloride using a NaOH solution. This produces Carbon Monoxide in the outer stream which then passes through AF-2400 semi-permeable inner tubing to enrich reaction streams. By using this approach, carbonylations can be successfully performed in flow without the use of pressurized gas cylinders.
Vapourtec Sales Manager Stacey Crane commented: "This is the latest in a number of breakthroughs from the Ley Group that have involved the use of our continuous process technologies.
"This paper highlights the potential of flow chemistry and what it can deliver in terms of chemical engineering," added Stacey.
[button  url="http://pubs.rsc.org/en/content/articlelanding/2016/re/c6re00020g#!divAbstract" target="new" label="To read the complete Steven Ley Group paper click here"]