When Vapourtec mention pressurised reactions or high pressure reactions we are referring to pressures in the range of 4 bar (gauge) up to 200 bar (gauge).  There are generally three reasons for running reactions at pressures in this range:
To prevent solvent boiling and therefore be able to run reactions at higher temperatures
Increase the amount of gas able to remain dissolvent in the reaction mixers
Access supercritical properties of certain solvents
We are not supplying sufficient pressure to use pressure alone to mediate the reaction in any way. There is an interesting body of research concerning "pressure mediated reactions" but the pressure applied in this research is typically 14,000 bar and upwards. One interesting reference:
The high pressure mediated intramolecular Diels-Alder reaction of furan dienes: a synthetic approach towards daphnanes.
Susan J. Burrell, Andrew E. Derome, Michael S. Edenborough, Laurence M. Harwood, Sarah A. Leeming, Neil S. Isaacs
doi:10.1016/S0040-4039(00)98969-X
14,000 bar is a very high pressure and is 70 times the maximum pressure applied in a Vapourtec system.
Having quashed any notion that we are preforming pressure mediated reactions we offer the tables below; 1) to assist in selecting the maximum temperature for a given solvent at a given system pressure, 2) to assist in estimating the reduction in reaction time that can be expected when running a known reaction at a higher temperature.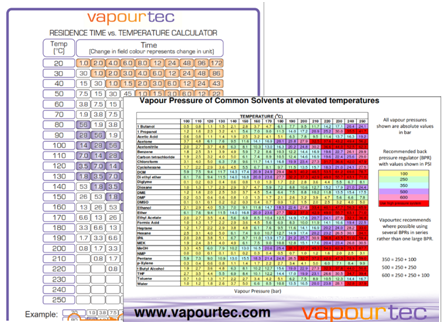 Please visit our knowledge base here to download a free copy of these charts.