Home
>
Telescoped continuous flow generation of a library of highly substituted 3-thio-1,2,4-triazoles.
Telescoped continuous flow generation of a library of highly substituted 3-thio-1,2,4-triazoles.

Mariana C. F. C. B. Damiãoa, Renan Galavernaa, Alan P. Kozikowskib, James Eubanksc, Julio C. Pastrea

a Institute of Chemistry, University of Campinas - UNICAMP, PO Box 6154 - Zip Code 13083-970, Campinas, SP, Brazil
b StarWise Therapeutics LLC - University Research Park – Zip Code 53719-1235, Madison, Wisconsin, USA
c Division of Genetics and Development - Krembil Research Institute – Zip Code M5T 2S8, Toronto, Ontario, Canada

We report herein the successful application of continuous flow micro reactors to prepare important building blocks based on the 3-thio-1,2,4-triazole core. A telescoped continuous flow process was developed based on the condensation of hydrazides and isothiocyanates to deliver an in situ stream of a thiosemicarbazide, which subsequently was cyclized under basic conditions. The obtained 1,2,4-triazole-3-thiol was further alkylated with benzyl/alkyl halides. In addition, we evaluated the scope of heterocycle formation and alkylation using different hydrazides, isothiocyanates, and aryl/alkyl chlorides, bromides and iodides. We were able to synthesize a small library of 18 compounds in 48 minutes of residence time for each synthesis, and in moderate to excellent yields, in a telescoped fashion. The fully integrated synthesis flow platform enables the fast generation of compound libraries, reducing the time consumed in preliminary stages of a drug discovery process.

Read the publication that featured this abstract
Get in touch
For more information on flow chemistry systems and services please use the contact methods below.
Call us on +44 (0)1284 728659 or Email us
Resource Centre
R-Series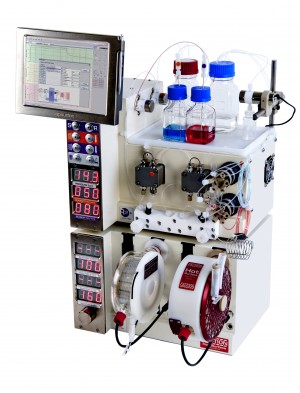 The Vapourtec R-Series is, quite simply, unrivalled for flow chemistry
Flexible
Precise
Automatable
The R-Series is undoubtedly the most versatile, modular flow chemistry system available today.
More on the R-Series
E-Series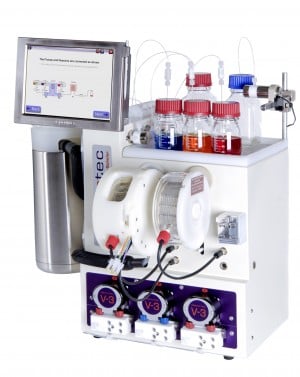 The Vapourtec E-Series is the perfect introductory system for flow chemistry
Robust :
Easy to use :
Affordable
The E-Series is a robust and affordable, entry level flow chemistry system designed for reliability and ease of use.
More on the E-Series