Flow Chemistry in Medicinal Chemistry: Applications to Bcr – Abl Kinase Inhibitors

aPfizer-La Jolla, Medicine Design, 10770 Science Center Drive, La Jolla, CA, 92121 USA

There continues to be an exponential growth in continuous/flow chemistry throughout the pharmaceutical industry with the advantages of this technology being well appreciated. While the ability to utilize such an approach to seamlessly scale a compound through development is often highlighted, the need to move rapidly in the discovery phase can be a barrier to investment in flow in medicinal chemistry laboratories. In addition, challenges exist most notably with heterogeneous reactions (insolubility of products) as well as with executing reactions prevalent in drug discovery most notably Pd-mediated cross-couplings. The current review highlights several case studies focusing on the application of flow chemistry technologies to the synthesis/discovery of inhibitors of Bcr-Abl kinase (such as imatinib, nilotinib, and ponatinib) and, through these, showcases a number of solutions/strategies to how these problems can be overcome.

Read the publication that featured this abstract
Get in touch
For more information on flow chemistry systems and services please use the contact methods below.
Call us on +44 (0)1284 728659 or Email us
Resource Centre
R-Series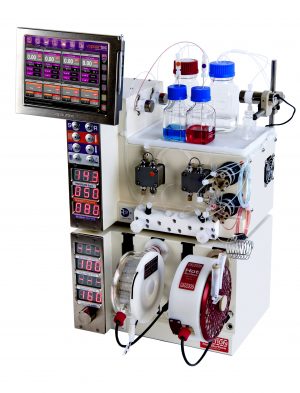 The Vapourtec R-Series is, quite simply, unrivalled for flow chemistry
Flexible |
Precise |
Automatable
The R-Series is undoubtedly the most versatile, modular flow chemistry system available today.
More on the R-Series
E-Series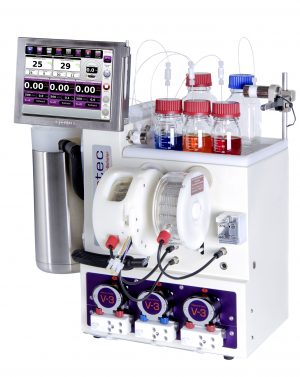 The Vapourtec E-Series is the perfect introductory system for flow chemistry
Robust |
Easy to use |
Affordable
The E-Series is a robust and affordable, entry level flow chemistry system designed for reliability and ease of use.
More on the E-Series