An Enzymatic Flow-Based Preparative Route to Vidarabine

Lucia Tamborini1*
Clelia Previtali1
Francesca Annunziata1
Teodora Bavaro2
Marco Terreni2
Enrica Calleri2
Francesca Rinaldi2
Andrea Pinto3
Giovanna Speranza4
Daniela Ubiali2*
Paola Conti1

1Department of Pharmaceutical Sciences, University of Milan, via Mangiagalli 25, 20133 Milano, Italy
2Department of Drug Sciences, University of Pavia, viale Taramelli 12, 27100 Pavia, Italy
3Department of Food, Environmental and Nutritional Sciences, University of Milan, via Celoria 2, 20133 Milano, Italy
4Department of Chemistry, University of Milan, via Golgi 19, 20133 Milano, Italy

The bi-enzymatic synthesis of the antiviral drug vidarabine (arabinosyladenine, ara-A), catalyzed by uridine phosphorylase from Clostridium perfringens (CpUP) and a purine nucleoside phosphorylase from Aeromonas hydrophila (AhPNP), was re-designed under continuous-flow conditions. Glyoxyl–agarose and EziGTM1 (Opal) were used as immobilization carriers for carrying out this preparative biotransformation. Upon setting-up reaction parameters (substrate concentration and molar ratio, temperature, pressure, residence time), 1 g of vidarabine was obtained in 55% isolated yield and >99% purity by simply running the flow reactor for 1 week and then collecting (by filtration) the nucleoside precipitated out of the exiting flow. Taking into account the substrate specificity of CpUP and AhPNP, the results obtained pave the way to the use of the CpUP/AhPNP-based bioreactor for the preparation of other purine nucleosides.
Get in touch
For more information on flow chemistry systems and services please use the contact methods below.
Call us on +44 (0)1284 728659 or Email us
Resource Centre
R-Series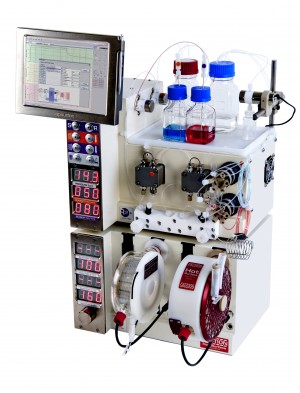 The Vapourtec R-Series is, quite simply, unrivalled for flow chemistry
Flexible :
Precise :
Automatable
The R-Series is undoubtedly the most versatile, modular flow chemistry system available today.
More on the R-Series
E-Series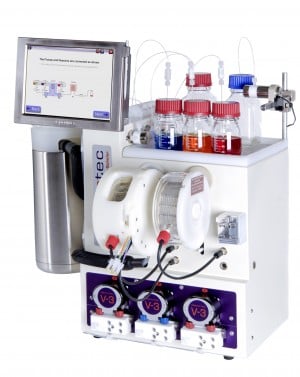 The Vapourtec E-Series is the perfect introductory system for flow chemistry
Robust :
Easy to use :
Affordable
The E-Series is a robust and affordable, entry level flow chemistry system designed for reliability and ease of use.
More on the E-Series