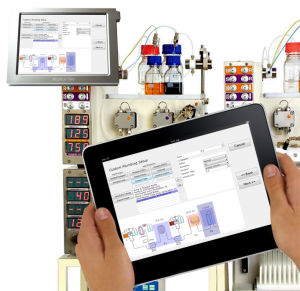 Wireless flow chemistry
Another feature of Flow Commander™ is the ability to access the instrument through a "remote desktop" style interface.
This means the instrument touch screen is fully replicated on the remote device.
This makes it possible to
see if the instrument is free before heading to the lab
check how much experiment running time remains
make changes to the schedule of remaining reactions based on analytical data from earlier remaining ones.
It is also of course possible to check experiment status from offsite (home, beach, pub etc).
And it is possible to choose whether the remote access user can only see the screen or can also "touch" the screen.
After all, you may prefer that remote users don't actually start an instrument they are not standing in front of.
For more information on setting up remote access or for a quotation please contact us using the links below.